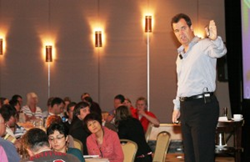 If people open your mind to alternative ways of transacting, anyone may be able to invest at anytime. What's important is how you buy property.
(PRWEB) June 08, 2014
The newest Housing Affordability Index found that houses have become 10.8 percent more affordable compared to last year's prices. Analysts identified low interest rates and slowdown of house price increases as the main reasons behind the positive figures, brisbanetimes.com.au published on 28 May 2014.
Rick Otton, a respected mentor of property investors in Australia, encourages investors to use creative seller finance strategies to make the most out of improving housing affordability figures.
"Housing affordability has been a big issue for many years both for property investors and first home buyers. In fact, the researchers who conducted the study confirmed that Australian real estate hasn't been this affordable since March 2002. Having said that, there are still many that find house prices expensive. The reality is that people need to pay an average of 10 to 20 percent of the property cost as deposit before they can enter a property. Unfortunately, in a post-GFC economy, no one has that kind of cash at their disposal," discusses Mr. Otton.
Mr. Otton also reminded Aussies in a recent interview for his Creative Real Estate Podcast that in a buyer's market, creative strategies could help anyone strengthen their chances of investing in property.
"If people open your mind to alternative ways of transacting, anyone may be able to invest at anytime. What's important is how you buy property. Buyers who buy creatively don't have to worry about high deposit fees because they can create flexible terms with the seller to help them buy property without a new mortgage or paying for a huge deposit," he said.
The Creative Real Estate Podcast is a weekly show featuring Rick Otton and his creative solutions on how to solve your property problems. Visit http://creativerealestate.com.au/ to catch Rick's episodes.
Australian property investment specialist, Rick Otton, has been developing, sharing and teaching his innovative real estate strategies for 23 years. As the founder and CEO of We Buy Houses, which operates in the US, UK, Australia and New Zealand he is known for introducing cutting-edge techniques that have enabled previously disenfranchised people to get out of the rental cycle and into their own homes.
His innovative low-risk, high-reward approach to Australian real estate investing has been featured in a variety of television programs and magazines, including Today Tonight, Hot Property and Australian Property Investor. His real estate book, published in 2012, ''How To Buy A House For A Dollar', voted by Money Magazine and Dymocks Book stores as one of the Top 10 Most Popular Finance Titles for 2013.
As well as conducting free seminars, workshops and conferences in the UK and Australia, Mr Otton releases a weekly podcast on iTunes, Creative Real Estate. In these he shares examples of real transactions, and you can listen to his students share their own experiences using his strategies.
Go to CreativeRealEstate.com.au to listen to Rick's free podcasts.