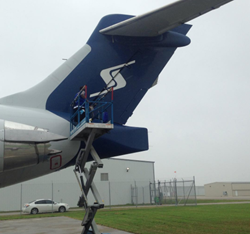 ...owner of Houston aircraft cleaning service KleanKraft reports that he's nearly doubled his staff in anticipation of the upcoming event
Houston, TX (PRWEB) January 27, 2017
Two years ago Glendale, Arizona netted an estimated $719 million dollars by hosting the last NFL game of the season. This year it's the Houston, TX business aviation market that will be one of the biggest winners due to an influx of transient aircraft between Feb 2nd and Feb 6th. The NBAA recently reported that all incoming business jets and general aviation aircraft will be required to make reservations during these dates at both the major and general reliever airports as the city is poised to receive an additional 1,300 to 1,600 aircraft during the days surrounding the event.
In response, local business aviation companies have been methodically readying themselves for what is likely to be the most profitable five days in the history of their niche industry. Aircraft maintenance, cleaning, and chartering companies alike are hiring employees en masse to meet the demands during the Big Game this February. The owner of Houston aircraft cleaning service KleanKraft reports that he's nearly doubled his staff in anticipation of the upcoming event at NRG stadium.
Bottom line, all aircraft operators who plan on being in Houston during the Big Game need to reserve their space before hand and schedule all foreseen aircraft cleaning and maintenance services well in advance of their arrival. Otherwise, they risk being left behind in the wake of what is likely to be the busiest weekend in decades for the Houston aviation market.
Luckily Houston has one of the largest airport systems in the country with plenty of options to choose from when flying private to Space City. As a quick reference for those still making plans, here's a list of all Houston area airports capable of housing mid-sized business jets: KIAH, KHOU, KTME, KSGR, KDWH, and KAXH.