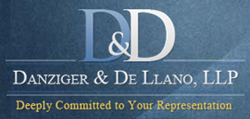 ...we work on a contingency basis, which means that our fees are based upon whether we win a settlement for you or not
Houston, TX (PRWEB) April 16, 2014
Danziger & De Llano, a top-notch group of Houston Personal Injury Lawyers, have just added some new and helpful information to their website, http://www.danzigerdellano.com.
In addition to an updated section about the law firm, the website, http://danzigerdellano.com, now also features in-depth articles about the firm's many areas of legal services. From business litigation cases and whistleblower lawsuits to mesothelioma and BP settlement cases and more, the caring and experienced attorneys at Danziger & De Llano are ready and able to help.
As the updated "About our Law Firm" section notes, the personal injury lawyers at Danziger & De Llano are happy to provide new clients with free consultations. They understand how helpless and upset people who have been injured through no fault of their own can be, and they are always ready to listen carefully to their new clients, and help to determine what the best approach will be to their case.
"They will take a personal interest in you, providing you with references to expert medical care or whatever other resources you may need in the course of pursuing your case – and the legal work that you will be receiving from us will not cost you a penny out of your pocket; we work on a contingency basis, which means that our fees are based upon whether we win a settlement for you or not," the article noted, adding that no matter what situation a person is in, Danziger & De Llano is there to help.
For example, one of the practice areas that the attorneys are experienced in pertains to product liability litigation. As an article on the law firm's website explains, when someone is hurt by a product that is defective or dangerous, the company who produced the item is responsible for any injuries that result. The attorneys at Danziger & De Llano are extremely proficient at making sure that the manufacturers of faulty products are held accountable, and compensate injured parties for the company's carelessness.
About Danziger & De Llano:
The experienced Houston personal injury lawyers at Danziger & De Llano are dedicated to providing personal, compassionate legal representation to those who have been hurt or denied what they are entitled to. The attorneys have experience in all areas of personal injury, and they will devote whatever resources are necessary to ensure that their clients' cases are thoroughly researched and represented so that they are able to win their legal case and walk away with the maximum settlement or verdict possible. For more information, please visit http://www.danzigerdellano.com/