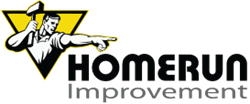 home remodeling contractors in Houston
Houston, TX (PRWEB) December 27, 2013
People who are starting the home remodeling process are looking for one company that can do it all. They don't want to oversee 20 different contractors doing 20 different things. Homerun Improvement, a family-operated business with 15 years of trade experience that specializes in professional painting services, has expanded their services to now include exterior painting and home improvement.
Exterior services that homeowners can now obtain include roofing, gutters, siding, custom patios, deck construction, swimming pool remodeling and repair services, window replacement, fence installation and A/C repair. By extending their list of services, Homerun Improvement hopes to give better service to people living throughout the Houston area.
Focusing on the entire aspects of home remodeling, they can give more specific quotes for services for bigger projects, allowing homeowners to save more money by going through one company than paying separate quotes to several businesses as the expenses can add up and go over a person's home remodeling project.
Relying on a trusted group of professionals on their team, Homerun improvement will continue to add new services to their growing list of home remodeling project work. This business growth will allow more people to find the services they need while getting excellent craftsmanship and superior customer service from one company.
About Homerun Improvement
Homerun Improvement is a fully insured and bonded construction company providing home remodeling services and painting contractors to people living in the Houston area and surrounding Texas neighborhoods. The company has its own team of professionals without relying on subcontractors or outsourcing work so customers know they are only dealing with experts working directly with the home remodeling company. For more information about Homerun Improvement, please contact the company at 713-992-6266 or visit the website at hrimprovement.com.
For Houston seo marketing visit Get Local Maps.