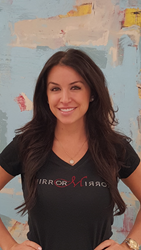 Houston, TX (PRWEB) February 08, 2016
Paul Vitenas, MD and Mirror Mirror Beauty Boutique are excited to announce the addition of respected nurse injector, Veronica Jones, RN to our team. Personally trained by Dr. Vitenas, Ms. Jones will be a valuable asset to Mirror Mirror Beauty Boutique.
Botox Cosmetic has been the number one noninvasive aesthetic treatment in the United States for years. Ms. Jones will be providing this wrinkle relaxing treatment, as well as dermal fillers, such as Juvederm, Restylane, and Voluma. During the past year, at Mirror Mirror Beauty Boutique, she has performed hundreds of Botox Cosmetic treatments, seeing over 20 clients every week.
Ms. Jones has spent more than 1,000 hours training one-on-one with Dr. Vitenas on the various injectables and other cosmetic procedures. Her experience covers all skin types and ethnicities, as well as all the latest trends in noninvasive treatments. Ms. Jones holds an Allergan Botox certification, meaning she has a proven understanding of facial anatomy and the benefits/risks of treatment, as well as knowledge on the current protocols and regulations.
While Botox Cosmetic is the most common treatment, Ms. Jones favorite procedure is enhancement of the lips. The focus of her practice is to bring out natural-looking results in every patient, providing a refreshed, youthful appearance without being stiff or overdone. Ms. Jones uses her skills to enhance the natural beauty with a 'never been touched' look. She is continually pleased to see her patients leave feeling beautiful and confident in their appearance.
Bringing Ms. Jones on as a full-time injector will benefit the entire Mirror Mirror Beauty Boutique practice. Dr. Vitenas explains, "I am very pleased to have Veronica join our staff as a full-time nurse injector, who has been extensively trained by me. She has an outstanding disposition and keen artistic eye, with an excellent sense of proportion and balance. Veronica has received glowing reviews from her clients for her bedside manner and consistent results." To see some recent reviews from her clients, please visit Real Patient Ratings.
Ms. Jones holds two BS degrees, first graduating from the University of St. Thomas with a concentration in International Business and Psychology. Ms. Jones also holds a Bachelors degree in Nursing from the University of Houston. She is a member of Sigma Theta Tau International Nursing Honor Society and has more than 14 years of experience in the beauty industry.
Anyone considering an aesthetic procedure should contact Mirror Mirror Beauty Boutique at 281.810.9083
to schedule a complimentary consultation. More information on Botox Cosmetic and other injectables can be obtained by contacting Mirror Mirror Beauty Boutique at 281.810.9083. If you are in the area, please stop by and join us in congratulating Ms. Veronica Jones on her new position.
Contact:
Mirror Mirror Beauty Boutique
4208 Richmond Avenue
Houston, Texas 77027
281.810.9083
http://www.mirrormirrorhouston.com/