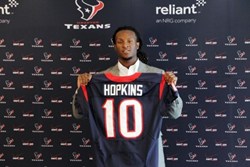 Houston, Texas (PRWEB) July 28, 2013
The Houston Texans have officially signed one of their top prospects in 2013, wide receiver Deandre Hopkins. With the signing, Houston now has seven of their nine picks officially signed. Hopkins entered the NFL 2013 Draft after his junior season at Clemson University. The 6-1, 207 pound wide receiver went in the first round to the Texans as the 27th overall pick. Hopkins was named third team All-American in 2012, because of his outstanding performance at Clemson. He caught 82 passes and set school records in receiving yards and touchdowns. He also received other awards his junior year, including first team All-ACC and was a Belitnikoff award semifinalist. The young and talented receiver scored in every one of his last 10 games at Clemson. Clearly, it was not hard for Houston to see that this was a player they had to get.
In 2012, NFL sophomore JJ Watt on the Houston Texans had quite the year. The young defensive end had 20.5 sacks and 16 pass deflections, and with these stats landed on the All-Pro team. But even with all of his success in 2012, Watt claims that he will be doing even better in 2013. When players don't have the pressure to be great in their first year or so, it is a lot easier for them to succeed. It will be interesting to watch as JJ tries to top himself in 2013, especially with all eyes on him.
Houston quarterback Matt Schaub is entering 2013 as his seventh season in the NFL. Although the Schaub and the Texans have done great over the years and especially recently, he has not brought up the hype that other elite quarterbacks have. Could this finally be his year? Analysts think that with a new weapon like Hopkins to throw to, they could make a dynamic duo. Schaub must peak this year, as he is getting older and will lose his prime.
To get in on the action at watch a game at Reliant Stadium in Houston, visit http://www.Texans-Tickets.net! Here customers can find the best prices to any Texans game. Prices are the best on the web because there are zero service fees! Texans-Tickets.net also wants to be there for every fan, so the customer service team is always available for assistance. Fans that go on the site can also use the Texans fan hub to participate on social media and chat with other fans. Go Texans!