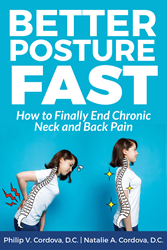 It just made sense to put together a book to answer all of our patients' most common posture-related problems
HOUSTON (PRWEB) February 07, 2022
Bad posture has more negative effects than most people can possibly imagine. It can cause a decrease in confidence, difficulty breathing, headaches, and overall body pain. People dealing with chronic neck and back pain often overlook how much their daily posture can be the cause. What if you could improve your posture fast and feel better but also learn to maintain good posture so you can keep feeling better?
Better Posture Fast was developed by two Houston chiropractors that have seen the negative results of posture problems up close and personal in their patients for more than twenty-five years. They've heard patients say, "Maybe I slept wrong" or "It just started hurting" and solved these problems by simply fixing their posture. "It just made sense to put together a book to answer all of our patients' most common posture-related problems," said Dr. Philip Cordova.
Their patients tend to be busy people, so this book will help you zero in on the fastest route to making changes to your posture without turning it into a full-time job. Directions to the exercises are clear and the authors provide illustrations and include links to the Better Posture Fast website, where you can view demonstrations or gather more information. They also include recommend resources, so if you plan on buying a posture gadget or brace, you'll know where to start. Dr. Natalie Cordova said, "We put together all of the exercises that we know work, but gave options for those that may need modifications."
By simply altering the way you use a phone or sit at a desk, you can change your day from one of agony to having a pain-free life. Improved posture can increase your quality of life. It's time to stop the pain now! You can schedule a consultation with the doctors at https://www.corechiropractic.net. Better Posture Fast is available on Amazon and all other online book sellers.