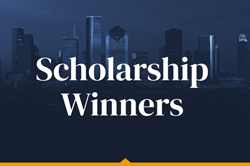 HOUSTON (PRWEB) February 10, 2023
The Law Office of Shane R. Kadlec is pleased to announce two winners of its Public Service Scholarship for Spring 2023. Gabriel Pizarro of the South Texas College of Law and Renee Diaz of Texas A&M University at San Antonio have each won $2,000 to put toward their educational expenses this semester. Through the Public Service Scholarship, this law firm has given away well over $10,000 to deserving students who plan to build a career in public service.
Pizarro, an aspiring personal injury attorney, has stated that he hopes to pay the scholarship forward one day. He plans to use his legal education to not only provide critical help to people who are struggling after being injured, but also to give back to the next generation of law students as the firm has inspired him to do.
Diaz has plans to become a mental health or school counselor. She is currently pursuing a certification to become a licensed professional counselor and hopes to specialize in eye movement desensitization and reprocessing, a technique used to help people overcome trauma.
The Law Office of Shane R. Kadlec is committed to building a better future, and places a high value on education. Students who have received this scholarship in the past include law students and law school hopefuls with bright futures.
About the Law Office of Shane R. Kadlec
The Law Office of Shane R. Kadlec is a personal injury-focused law firm located in Houston, Texas. The firm primarily helps those who have been injured in motor vehicle accidents, with additional practice areas in medical malpractice, premises liability, and workplace accidents.
To learn more about the Law Office of Shane R. Kadlec or to contact the attorneys, please visit: https://www.injurylawyerhouston.com/