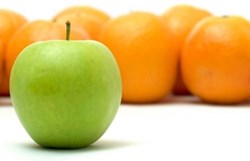 Dallas, TX (PRWEB) August 19, 2013
With hundreds of options and new models arriving every year, shopping for a new mattress can be a lot of work. Every brand claims to offer special features and the best night's sleep, and detailed comparisons are often difficult to tease out.
Though innerspring mattresses compose the largest share of the market, specialty mattresses like memory foam are becoming more popular every year. However many consumers who have only slept on coil mattresses may be unsure as to how other types of beds compare or which type might be best suited to their needs. Memory Foam Mattress Guide's latest article,"How is Memory Foam Different from Other Mattresses?", aims to simplify mattress research by breaking down the differences between major bed types.
The extensive guide contrasts memory foam mattresses with innerspring, water, air, and latex mattresses. The five mattress types are first compared side-by-side in reader-friendly table, detailing 10 factors including support, pain relief, lifespan, pricing, as well as owner review scores for satisfaction, heat and odor.
Among the types, the highest-rated by owners prove latex and memory foam, both of which offer the best bets for pain relief, support, and motion isolation. The lowest rated type is spring mattresses, which also tend to score lowest on pain relief, long-term support, and lifespan. Air and waterbeds fall slightly under the two foam mattresses.
Following the comparison table, each mattress type is explained in detail. Memory Foam Mattress Guide provides an overview of pros and cons, explains the composition of the bed type and main features, and explains the comparative ratings. Each type is then directly compared to memory foam based on the findings.
The final section of the article takes a deeper look at the memory foam category, contrasting traditional, plant-based and gel memory foams for a more in-depth perspective. Another comparison table looks at three specific brands, traditional Tempurpedic, gel-infused iComfort, and plant-based Amerisleep. The brands are compared on same factors used in the previous chart, with Amerisleep's plant-based memory foam showing the highest average owner rating and lowest heat and odor complaints. Each type is then explained in greater detail.
Memory Foam Mattress Guide's detailed explanations offer useful information for those considering memory foam or a new mattress in general. The article takes an unbiased approach with goal of helping readers become informed shoppers by explaining distinguishing factors and cutting through sales pitch hype. The website also provides other helpful guides and articles on the subject of memory foam for interested readers.
MemoryFoamMattress-Guide.org offers detailed resources, geared towards people looking to buy or research a new bed. A fresh and easy-to-navigate blog format presents articles organized by topic and date, in addition to offering social tools and subscription feeds. From buying guides to brand information and news, readers can find unbiased information designed to create educated buyers.