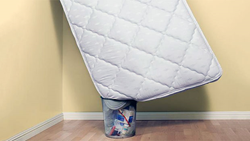 Chicago, IL (PRWEB) February 26, 2014
The average person logs over 2900 hours per year in one very important but often under-appreciated place: their mattress. For a piece of furniture that receives so much use, replacing a mattress is often overlooked and postponed, and many people are unsure how long a bed is even meant to last.
The latest article from bed news website Mattress Journal examines the topic, drawing on expert recommendations to establish average lifespans and reduce confusion. Titled "How Often Should You Replace Your Mattress?", the article explains when most people should replace beds, warning signs to look for, as well as tips for choosing a new bed.
Mattress Journal compares replacement recommendations from four expert sources: the Better Sleep Council, an industry organization, and Consumer Reports, a product review publication (from an NBC Dallas Fort Worth article); Sleep Like The Dead, a product analysis website; and a mattress study from Oklahoma State University researchers.
The sources offer differing recommendations, though nearly all suggest replacing a mattress within 10 years or less. This can come as shock to some consumers, partly due to manufacturers' long extended warranties in excess of 20 years or more. In the article, Mattress Journal briefly explains why warranties are not meant to serve as estimated lifespans.
Because the viability of a mattress depends as much on product quality as personal usage, Mattress Journal concedes that there is no set "expiration date" for beds. The blog suggests paying more attention to one's body and comfort level, listing ten signs that it might be time to get rid of an old mattress. Among these are waking with pain or stiffness, personal changes such as weight or illness, allergic symptoms, and feeling more comfortable elsewhere. The website also provides a few tips for extending mattress life as long as possible.
The article concludes with tips for replacing a worn-out mattress, such as setting a budget, recognizing that expensive beds are not always better, trying several options, focusing on support, and asking retailers about returns and other policies. Mattress Journal's website also offers numerous articles on mattress brands, industry news and sleep for interested readers.
MattressJournal.com offers the latest bed news and mattress reviews to help shoppers research purchases and get the best sleep possible. Through careful, independent analysis of mattress types, brands, and sleep research, the blog offers expert opinions in readable, relatable format. With a focus on making the buying process simpler, Mattress Journal proves a valuable resource for consumers.