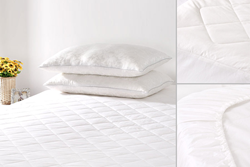 Menlo Park, CA (PRWEB) March 07, 2014
Lilysilk bedding store is a professional manufacturer and retailer of silk bedding wares for years, which has also supplied high quality silk mattress toppers for customers worldwide. It is really a great idea to replace the old mattresses by pure silk mattress toppers in this season. The company has recently encouraged its customers to cover their beds with premium quality silk mattress toppers in 2014.
The Better Sleep Council recommends trading in mattresses every five to seven years. While it's not surprising to see this suggestion coming from a trade group, others support this theory, both for comfort and for health reasons. Mattresses accumulate dead skin cells and perspiration over time, which can attract dust mites and pose health risks.
Silk is one of the best fabrics in the world, and its natural components are beneficial for body and skin.
"When you purchase our products, you will be surprised by the smoothness and luster. We encourage customers to use silk mattress toppers to prolong the life span of mattresses, and enjoy the smoothness and softness of silk toppers." says Mike Lee, CEO of Lilysilk Bedding Store.
The company has also offered many other silk bedding wares including bed sheets, duvet covers, pillowcases, silk comforters and duvets. All these products are well manufactured by designers from Lilysilk who insist on only using premium quality silk fabrics. More information about Lilysilk can be found at: http://www.lilysilk.com/