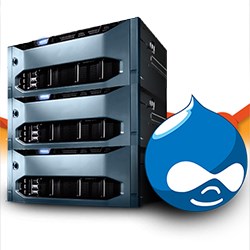 San Francisco, CA (PRWEB) November 19, 2013
Established in 2006, the leading Drupal hosting review and rating site DrupalHosts.org has announced a detailed guideline on how to pick a reliable web host for hosting Drupal, with the purpose to guide Drupal users through the selection of a good web hosting service that can serve Drupal websites with the minimum costs and optimized performance.
As an open source content management system powering millions of websites and applications, Drupal is supported by nearly all the web hosting providers in the market. However, as a recent survey indicates, approximately 71% Joomla users are not satisfied with their current web hosts for either the poor performance or ineffective technical support.
To avoid scams and find the real Drupal-friendly web hosting services, Susan Rosie, the founder of at DrupalHosts.org, suggests that Drupal users should take the following criteria into consideration before making a purchase.
Drupal compatibility. Compatibility is the first question that should clear up. As Drupal is written in PHP and basically backed MySQL database, web hosts that offer the latest versions of PHP and MySQL are recommended. Those with Apache web server and extensions, suPHP, and PHP related technologies like Zend Optimizer are even better.
Ease of use. The management of Drupal websites and hosting accounts could be much easier with web hosts that provide cPanel, a user-friendly control panel. Besides, a 1-click installer saves much time and energy for beginners lack of knowledge on manual Drupal installation.
Price. In most cases, web hosting packages that are priced between $3/mo and $8/mo should be reasonable choices that come with affordable price as well as rich features and low risks. It will be better if the packages include a long refund period.
Speed. Fast hosting speed is crucial to not only the browsing experience but also search engine rankings, so web hosting services with less than 1 second page loading speed are ideal for Drupal websites.
Reliability. A good Drupal web host should be able to deliver more than 99.9% uptime in practice. Real monitored uptime statistics of most popular web hosts are available at DrupalHosts.org.
Technical support. 24x7 professional technical support is a necessity that an optimized Drupal hosting package needs to include. Besides, to ensure a quick response and solution, web hosts' support for making requests via phone and live chat is also important.
"According to my 7 years' Drupal hosting experience with 100+ web hosts, all of these 6 aspects have large impacts on the management or even the success of a Drupal-based website, so they should be top concerns that need to deal with carefully," said Susan.
Based on those criteria, Susan has made some recommendations that are both reliable and cost-effective, among which BlueHost tops the list.
To read more about the standards on choosing a reliable web host for Drupal websites, follow this link to visit DrupalHosts.org.
About DruaplHosts.org
Having been reviewed 100+ Drupal hosting providers, DrupalHost.org is a professional web hosting review site devoted to helping Drupal users find quality web hosting services to serve their websites and applications with 100% compatibility and high performance.