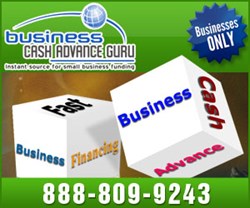 Expert Franchise Loan Application Tips Now Available at Business Cash Advance Guru.com.
(PRWEB) September 19, 2013
A franchise can be a great opportunity for an entrepreneur. These models are established and in many cases, come equipped with advertising bundles or materials. Ranging in cost from just a few thousand dollars to hundreds of thousands, small business owners can capitalize on the franchise's name recognition.
Although these opportunities are generally considered turnkey, capital is still needed to launch a new venture. Unfortunately, traditional banks are no longer a reliable source of funding, "Although many of the larger banks claim to be expanding their small business lending programs, the reality is that nine out of 10 loan applications are typically rejected, according to Biz2Credit, and the total number of bank loans to small businesses have fallen 17 percent since October 2011, according to Pepperdine University," the Washington Post Reports.
Business Cash Advance Guru, a leading alternative lender, now offers expert advice on their new site about how to apply for a franchise loan that bypasses conventional lenders. The commercial funding company states an entrepreneur can get a low interest small business loan through an alternative business loan provider.
The company explains how to apply for a franchise loan through other sources. It points out many options for obtaining a poor credit business loan for companies wanting to expand into the franchise market.
"Small businesses are the engine that drives our economy; they employ half of all private sector employees, generate 65 percent of all new jobs in the country and pay 44 percent of the country's private payroll, according to the U.S. Small Business Administration," the Washington Post explains.
Alternative lenders are making small business loan products available with competitive rates, flexible payment terms and quick funding. These providers likewise offer access to poor credit business loan programs at an affordable cost.
A small business loan can be approved in as little as 24 hours through Business Cash Advance Guru and funds are made available in only a week. Capital can be used for any purpose, and there is no credit check, tax returns, or financial statements necessary to qualify.
Common alternative lending services that Business Cash Advance Guru.com now offers include:

Business Cash Funds Fast
Merchant Loans
Unsecured Business Loans
Merchant Cash Advances
Small Business Loans
Business Loans
Unsecured Business Loans
Business Loan Alternative
Franchise Business Loans
Medical Business Loans
Retail Business Loans
Restaurant Loans
Poor Credit Business Loans
More services are available, in addition to the above list, through the website at: http://www.businesscashadvanceguru.com.
Business Cash Advance Guru expanded nationwide services are now available in the following geographical areas:
Alabama, Alaska, Arizona, Arkansas, California, Colorado, Connecticut, Delaware, District of Columbia, Florida, Georgia, Idaho, Illinois, Indiana, Iowa, Kansas, Kentucky, Louisiana, Maine, Maryland, Massachusetts, Michigan, Minnesota, Mississippi, Missouri, Montana, Nebraska, Nevada, New Hampshire, New Jersey, New Mexico, New York, North Carolina, North Dakota, Ohio, Oklahoma, Oregon, Pennsylvania, Rhode Island, South Carolina, South Dakota, Tennessee, Texas, Utah, Vermont, Virginia, Washington, Washington DC, West Virginia, Wisconsin, and Wyoming.
About TieTechnology
Business Cash Advance Guru, a division authorized by TieTechnology, LLC. TieTechnology, LLC, specializes in service based solutions for businesses. Services provided by TieTechnology are merchant credit card processing, business service telecommunications, and web based visibility marketing. The advantages of doing business with TieTechnology are, their commitment to their customer service excellence and the offering of one stop solutions to all business to business service product needs for the customers' convenience. To learn more about their wide assortment of business services, or if your company would like more information about how to apply for a franchise loan, please visit http://www.tietechnology.com, and http://www.businesscashadvanceguru.com.
TieTechnology, LLC
813-856-0223 x150
888-809-9243 x150