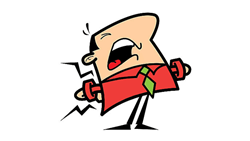 Arlington, VA (PRWEB) March 06, 2014
Chronic back pain affects about one-third of all US adults, with many more experiencing occasional pain. Back pain has numerous sources, from occupational strain to poor posture, although one place many people look for relief is their mattress. Determining which type of mattress is best for back pain can be complex though, because each individual has unique needs and preferences that trump a one-size-fits-all recommendation.
The Sleepy Shopper, a blog that writes on sleep and mattresses, recently produced a guide to address questions and explain what can make a mattress good or bad for back pain. Published on March 5, the article, titled "How to Find the Best Mattress for Back Pain", explains key concepts to understand, describes the needs of different sleep positions, and compares mattress types.
In their guide, they identify the four primary considerations as conformity, support, firmness and sleep position. For each term, The Sleepy Shopper explains what it means and how it relates to back pain. The blog then looks in-depth at how the needs of side, stomach and back sleepers vary, and offers suggestions for choosing the best mattress for back pain based on these needs.
The article also features a chart comparing the different types of innerspring mattresses as well as memory foam, latex, water and air to demonstrate how they stack up in terms of support, firmness, conformability, durability, pain relief and overall owner satisfaction. Also included are links to more detailed comparisons of latex mattresses and memory foam brands.
Using these findings, The Sleepy Shopper offers detailed recommendations for mattress selections grouped by sleep position. For people seeking a new bed or struggling to find the best mattress for back pain, the article offers useful pointers and a helpful starting point for research. The website also features several other articles on popular sleep news, buying guides, and mattress comparisons for interested readers.
TheSleepyShopper.com offers insights and information for consumers, focusing exclusively on mattresses, pillows, bedding and sleep products. Utilizing an accessible, responsive blog format, the website aims to help educate consumers about their options and on making better buying decisions. From industry research, to product reviews, and general guides, the blog is a must-read for anyone in the market for a new mattress.