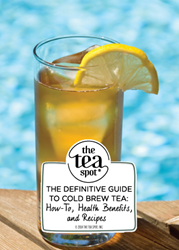 Boulder, CO (PRWEB) May 28, 2014
The Tea Spot, a Boulder, Colorado-based philanthropic tea company, expands its focus and expertise into cold brew tea, a trending category of loose leaf tea preparation. The company announces today the availability of an online quick-start guide for consumers interested in cold brew tea.
Titled "The Definitive Guide to Cold Brew Tea", this e-book is available for free online at theteaspot.com and on lulu.com. This quick start guide covers the essentials of how to make cold brew tea at home and on-the-go. In addition to brewing instructions, this primer guide offers recipe suggestions for cold brew blends and fresh fruit infusions. "The Definitive Guide to Cold Brew Tea" also provides some background on why cold brew tea is a healthy and practical alternative to traditional hot tea preparation methods as well as bottled iced teas.
Cold brew tea is easily made at home or on the go in a water bottle in minutes using loose leaf tea and cold water. A wide variety of premium teas lend themselves well to preparation by cold brew, including white teas, green teas, oolong teas, and many herbal teas. White teas and Japanese green teas, in particular, cold brew exceptionally well.
The Tea Spot offers a patented product in its STEEPWARE® line that makes cold brew tea on the go. The Steep & Go™ cold brew filter allows consumers to make their own fresh brewed tea using bottled water. Infusing loose leaf teas within minutes on-the-go is an easy and cost-effective way to make an antioxidant-rich, sugar-free beverage. The Steep & Go supports The Tea Spot's mission of making healthy beverages more easily accessible to today's consumers. This cold brew infuser was awarded Best New Product in the Innovation Category at the World Tea Expo in 2012.
About The Tea Spot: The Tea Spot is a leading producer of handcrafted loose leaf teas and creator of Steepware®, the housewares tools that make loose tea easy. The company's vision to modernize the loose leaf tea experience has held steadfast since the for-profit philanthropic company was founded by Maria Uspenski in 2004, a cancer survivor drawn to the health benefits of leaf tea during her recovery. Her message is simple and powerful: tea in its freshest form renders premium flavor, unmatched health benefits, and is eco-friendly. The Tea Spot's model of social entrepreneurship incorporates its mission to foster health and wellness through loose leaf tea, with its 10% Pledge. Ten percent of the company's sales are donated in-kind to cancer and community wellness programs. The Tea Spot is a Boulder, Colorado-based woman owned and operated business. http://theteaspot.com