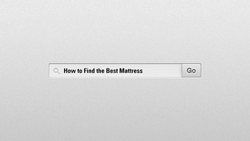 Dallas, TX (PRWEB) March 18, 2014
3000 hours is the amount of time the average person spends in bed each year, making a mattress one of the most frequently-used household items. A good bed can make the difference between restful sleep and restless nights for years to come, so shoppers can feel a lot of pressure to choose the "best mattress". Mattresses can also be costly and time consuming purchases, leading many people to dread buying a new bed.
The Best Mattress, a blog on beds and mattress shopping, recently published an article on March 18, titled "How to Find the Best Mattress". The article details five steps designed to help simplify the process of planning for and selecting a new mattress in 2014.
Based on the premise that there is no single best bed for every shopper, readers are guided through a series of questions in the first two steps to identify personal needs and preferences. These questions are meant to help readers consciously make note of what they do and do not want in a new mattress rather than going in blind. The Best Mattress also offers a few tips based on sleep position preferences to offer a starting point for research.
In the guide, readers are briefly introduced to the different mattress types including innersprings, air beds, memory foam mattresses, latex beds, and waterbeds. The Best Mattress includes a chart with an overview of the pros and cons of each category, as well as the average owner satisfaction rates. Although latex and memory foam mattresses tend rate better with owners, the article explains that each type has distinct benefits to consider.
After narrowing the scope of potential mattresses, the guide then suggests comparing relevant brands in detail to identify the best fit and best value before buying. Because many shoppers report difficulty comparing value and quality between different mattresses, a list of important questions to ask about mattress details, policies and reviews is included to help shoppers focus on the most important aspects.
The Best Mattress also recommends not limiting searches to one store, one brand, or even to local showrooms, as selection and pricing online can be more competitive. On the website, interested readers can also browse several other articles on mattress topics including unbiased buying guides and brand comparisons.
TheBest-Mattress.org is a mattress education blog that offers insightful guides and product comparisons for consumers. The website reports on a range of topics from mattress brands to shopping tips, offering an unbiased and well-informed at look at the facts.