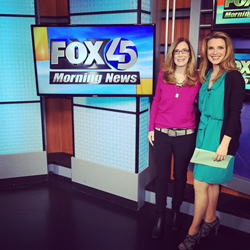 Our personalized PR seminar will be different as a high-touch, groundbreaking event. By attending, experts will succeed with tangible ideas and skills to implement right away. ~ Liz H Kelly, Goody PR Founder
Santa Monica, CA (PRWEB) August 17, 2015
To support the growing Southern California entrepreneur community, Goody PR Founder Liz H Kelly announces a new "How to Get Free PR" Workshop that is designed to empower business owners and authors to develop, implement and manage their own PR. This one-day workshop will be the first of a series of personalized training events for a maximum of 20 people each starting Saturday, November 7, 2015, in Santa Monica, California, at ExpertDojo (Santa Monica Place).
Attendees will learn how to book earned media (Print, Radio and TV) that is considered much more valuable than paid media because it is reporters and influencers talking favorably about a brand. This class is ideal for someone who has a new book, business and/or product, and is ready to make a small investment in changing their life forever.
This new PR workshop will teach brands and industry experts how to build a powerful story, write a press release that gets picked up by media across the country, pitch producers at the right time with the right story, book media interviews, connect with audiences during TV and radio interviews with media training tips, plus how to get 100% engagement on social media to engage fans and get more mileage out of earned media.
Based on 13 years of PR experience and after booking thousands of media interviews (CNN, FOX News, BBC Radio, USA TODAY, Cosmopolitan and more), Liz H Kelly knows first-hand what it is like to be an author and small business owner. Kelly currently works with Goody PR clients who receive personalized attention and PR strategy every day with results. Recent interviews booked for clients include FOX News, KCBS, KTLA, KABC, ABC News Radio, Investor's Business Daily, VentureBeat, and more.
When asked why this class will be for 20 people only, Kelly explained, "I've participated in PR seminars with hundreds of people. You don't get any personalized attention. We want to make our PR seminar different as a high-touch, groundbreaking event. By attending, you will succeed with tangible ideas and skills to implement right away." As a published author who spoke on stage with Mark Victor Hansen ("Chicken Soup for the Soul") about her PR Success Tips, Kelly wants to help more experts and personally invites entrepreneurs (VIDEO: How to Get Free PR Workshop Invitation.)
Topics will include:
1. How to define a powerful story that breaks thru the noise in the producers flooded email inbox.
2. How to book a TV interview with 1 email (with examples shown).
3. How to get free media that reaches a target audience worth thousands of dollars (one TV interview can be worth $30,000 or more).
4. What do you do when a print, radio and TV reporter calls to ensure your brand stays in the story and looks great.
5. How to be recognized as an industry expert who gets repeat interviews.
6. How to increase revenues by raising brand awareness, trust and loyalty from real fans versus paid fans.
7. How to use social media best practices to get 100% engagement.
Anyone interested in attending is encouraged to invest 5 minutes in applying to attend this personalized workshop on GoodyPR.com by completing a short 7-question application form so that the company can be researched by Liz H Kelly in advance of the seminar. Applications are due by October 7, and a waiting list will be started for the next one after the max of 20 people is reached.
About Goody PR
Goody PR is grateful to serve Marketing, PR and Social Media Marketing clients choosing to hire the agency on a monthly retainer. Providing flexibility to clients is an integral part of their business model with custom campaigns, and is still much more cost-effective than hiring a full-time PR person. Goody PR's specialties include entertainment, technology, health, finance, entrepreneurs, and cause marketing. http://goodypr.com
About Liz H Kelly
Author, Speaker, UCLA Extension Instructor (New Media Marketing), Columnist and CEO Liz H Kelly founded Goody PR and Goody Awards to magnify brands, experts and causes making an impact. After working for Fox Interactive Media/MySpace, Paramount Pictures, Sprint PCS, and LA startups, Kelly decided to use her marketing experience for GOOD. As a published author with 500+ media interviews for 1 book (CNN, FOX News, Lifetime, USA TODAY, ESPN Radio etc.), she shares PR tips @LizHKelly.