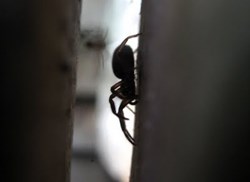 ...Spider Bully meets and exceeds federal programs. And so, besides being safe...anyone could rest assured it is effective and that it could even kill spiders' eggs and larvae.
Salt Lake City, UT (PRWEB) January 28, 2014
My Cleaning Products has published a three-step guideline of how to get rid of spiders right. In it, the company said that the elimination of those arachnids must also be safe besides effective. And so, it advised the use of one pesticide-exempt spider spray.
In the guide, which it posted on January 27, 2014, the green cleaning company said that about 43, 000 of spiders exist. Although only a few of that number pose threats to humans, it asserted that the public must always be ready to respond promptly to the presence of any of its species.
MCP said that it's not really hard to clear those small eight-legged and furry animals. In just three steps, it asserted that one could do it and even make sure that the process is truly safe and effective.
As it enumerated, the first step on its list is to check the areas where spiders usually hide. Next to that, it stated that a person must then ready his spider spray for the actual elimination of the pest. And lastly, it cited that their return must be prevented.
Here is an excerpt from the said guideline.
"#1 Check Corners and Dark Areas In Your House
Most spiders hide in those spots. Check them first before any other section in your house to locate the pest fast."
With the three steps that it listed, My Cleaning Products said that it would surely be easy for anyone to get rid of spiders. It stressed though that the elimination must be safe besides effective to protect the people's health.
However, a safe process couldn't be obtained with just any spider spray as most of them these days contain harsh chemical ingredients, it stated. And so, to ensure that the treatment would not risk anyone's health, it recommended the use of Spider Bully among others.
As it is made with organic ingredients, Spider Bully leaves no harmful odor and residues, the company stated. And because of that, it cited that it requires no evacuation.
Moreover, MCP shared that Spider Bully is on EPA's FIFRA 25(b) list as a pesticide-exempt product. It also pointed out that it meets and exceeds federal programs' requirements. And so, besides being safe, it asserted that anyone could rest assured it is also effective and that it could even kill spiders' eggs and larvae.
To experience those benefits themselves, MCP invited the public to visit its website at mycleaningproducts.com and get the Spider Bully Complimentary Sample.