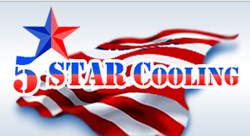 Humble, TX (PRWEB) October 31, 2013
With the seasons changing, more people will be seeking HVAC services to ensure their heating systems are running properly and to get maintenance on air conditioning systems before shutting them down for the winter. Unfortunately, to save on costs, people are hiring the "Jack of all trades" handyman who only tinkers with HVAC systems -- creating more problems and the likelihood of people falling for a scam.
5 Star Cooling, a licensed and insured HVAC installation and repair company servicing residences and commercial businesses throughout Texas, understands that informed customers will make better choices on who they hire to service their heating and cooling systems. People are on tight budgets right now, and they simply can't afford to waste money or get scammed by unprofessionals who can cause more harm than good.
One of the first steps a person can do is to ensure that the HVAC contractor they are working with is licensed and has insurance. Asking the contractor to supply this information and doing online research about the company protects customers and their HVAC systems. Check to make sure the license and insurance are current, as some unscrupulous contractors will use old licenses to perform services.
There's a reason why every employee at 5 Star Cooling is licensed and the company has insurance. It is to prove to customers that they took the time to become experts in their field, gaining the knowledge and certification to work with different makes and models of heating and cooling systems. Hiring a competent insured and licensed HVAC company helps consumers to be protected while they know they are getting the best services for their money.
About 5 Star Cooling
5 Star Cooling is a licensed and insured HVAC installation and repair company servicing the Houston, Sugarland, Champions, Bellville, Harris, Fort Bend, Montgomery and surrounding areas of Texas. For more information about 5 Star Cooling, please visit the company website at http://www.5starcooling.com.