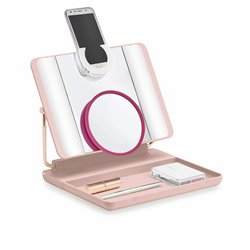 Beauty fans are going crazy for Spotlite HD Diamond 2.0 Makeup Mirror the new and ingenious multi-purpose makeup mirror being hailed by Instagram stars as their skin's 'guardian angel.'
SAN DIEGO (PRWEB) July 26, 2019
Waking up to blemishes, dry patches or redness that "wasn't there last night" is everyone's worst nightmare! But what if we could see these problems coming and could stave them off, or at least prepare for them in advance?
Beauty fans are going crazy for Spotlite HD Diamond 2.0 Makeup Mirror the new and ingenious multi-purpose makeup mirror being hailed by Instagram stars as their skin's 'guardian angel' that's helping them spot the signs of early skin conditions before they become a problem.
Spotlite HD 2.0, a new LED lighted makeup mirror by London-based design company JUST OWN IT (JOI) is the improved version of their successful predecessor launched in 2017. Its premium lights supplied by custom LED bulbs closely mimic "true daylight" to clearly illuminate the skin, complexion and makeup.
Spotlite HD's ultra bright true daylight, coupled with the 10x distortion-free magnification mirror, make the perfect examination tool for close inspection of the skin in identifying those first signs of trouble.
Beautician and registered nurse, Jackie Hammond, recommends daily close examination of the skin in daylight for spotting potential problems. It is easy to spot impending breakouts or rashes at least 24 hours beforehand, giving you the time to control them or at least prepare if inevitable. A tool like Spotlite HD, with it's custom formulated 'true daylight' is a perfect alternative to natural daylight, which isn't always available anyway.
Spotlite HD's viral reputation is not just based on it's premium lights. It is a multi-purpose mirror with premium, sleek design and packed full of ground-breaking features including ingenious transformable design to hand-held, wall-mounted, vanity and folded travel compact size for your hand luggage.
JOI was founded by a busy modern woman and product engineer who had many daily beauty challenges and decided to solve them. JOI's products have been perfected to provide the level of customization, personalization and convenience expected of modern-day beauty solutions. JOI believes that beauty is personal and that everyone should have the best tools available to help them own their spotlight moments. Its mission is to understand its customers and provide them with innovative and versatile beauty solutions which solve real life beauty challenges.