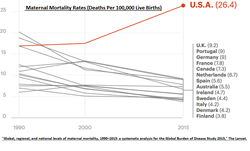 There are specific action steps we can take as moms (and dads) to ensure a healthy pregnancy/delivery and give our children the best start to life. Our goal is to educate local moms on exactly what to do to achieve better health and break the existing patterns of poor maternal and fetal health.
BEAUMONT, Texas (PRWEB) July 18, 2019
Maternal mortality is rising here but declining everywhere else. Our goal is to educate our local community on specific steps to take to keep our moms and families healthy.
Bloom SETX 2019 is the first annual event to guide local families on how they can have an empowered and informed pregnancy, leading to decreased risk of unnecessary medical intervention in delivery (forceps, vacuum, c-section) and increased chance of having a healthy and uncomplicated pregnancy, delivery and postpartum time. This event will also guide parents on what they can do to give our babies the healthiest start to life.
Local professionals will be presenting on the following topics:

Morning Session: informed consent, choosing a prenatal provider (midwife or OB) and birth location (home, birth center, or hospital) based on what's best for your family, prenatal nutrition, MTHFR genetic variants and how they affect your and your baby's health, how to decrease pain and increase function during pregnancy and beyond, pelvic floor health, essential oils helpful for pregnancy and labor, birth 101, what is a doula and do I need one?
Afternoon Session: breastfeeding 101, postpartum depression, pediatric chiropractic and neurological milestones, tongue/lip ties and their consequences on breastfeeding and other aspects of life, starting solids, baby led weaning
Local vendors geared towards pregnancy, family and wellness will be providing raffle prizes as well as discounted services for attendees.
Attendee Registration Link: https://forms.pabbly.com/form/share/S77Q-398474
Vendor Registration Link: https://forms.pabbly.com/form/share/av41-398470