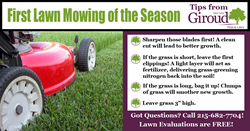 If a tree has suffered any damage recently, now is a great time to give it a deep root fertilizer treatment to boost its health and strengthen the root systems.
HUNTINGDON VALLEY, Pa. (PRWEB) April 01, 2019
It can be overwhelming for a homeowner to remember all of the items they need to address on the property as the seasons change. To know what to look for the experts at Giroud Tree and Lawn have compiled a Spring Property Checklist.
Actions for Trees and Shrubs
Spring is a great time to prepare trees for upcoming windy summer storms. Deadwood pruning and crown reduction will allow for air to flow through the branches of trees and greatly reduce the risk for storm damage.
Freezing and thawing cycles throughout the winter can lead to stress cracks and structural damage. Check now for cracks and peeling bark on the trunks of trees.
Are there signs of insects munching on the tree's leaves? Does any of the new leaf growth look discolored, blotchy or mottled? A tree could be suffering from a disease or insect infestation.
Speaking of insects, now is the perfect time to look for Spotted Lanternfly Egg Masses. Spotted Lanternfly is an invasive species that has been spreading like wildfire in recent years, and Pennsylvania is one of the hardest hit areas! Check out Giroud's informational video, "How to Remove and Destroy Spotted Lanternfly Egg Masses.
If a tree has suffered any damage recently, now is a great time to give it a deep root fertilizer treatment to boost its health and strengthen the root systems. A time release formula is best as it provides critical nutrients for 12 months.
Lawn Actions
If homeowners are eager to mow the lawn for the first time this season, they should first take a look at Giroud's Tips for the First Mow of the Spring. Check the pH level of the soil. Grass can't grow unless the soil is at an optimal pH of 7.
Look for signs of fungus or disease on the grass. Are certain areas of the lawn patchy or bald? If a homeowner is having trouble growing grass in some spots, a PA Certified Lawn Expert can recommend the best treatment plan for the property.
Prepare for Mosquito and Tick Season
If a property is prone to biting insects, there are many actions homeowners can take now to prevent a massive invasion. Mosquitoes and ticks love the shade, so pruning back branches and clearing out brush will take away their hiding spots! Mosquitoes breed on water, so look for anything that collects water and turn it over or put it away.
There are both organic and traditional mosquito and tick control programs, so it's best for homeowners to have the property evaluated by an expert who can assess property's specific needs, addressing any "hot spots" where insects gather and breed. Signing up for an insect control program will give homeowners peace of mind that the family and pets are protected from these dangerous, disease carrying pests.
About Giroud Tree and Lawn
Giroud Tree and Lawn specializes in tree service, lawn care and mosquito and tick control programs that make customers love doing business with the company since 1974. Serving Bucks, Montgomery and Philadelphia Counties, the company offers professional tree and lawn evaluation, tree pruning, tree removal, insect and disease control, fertilizing, stump removal, traditional and 100% organic lawn programs and mosquito and tick control. Giroud Arborists are certified by the International Society of Arboriculture (ISA) and have the knowledge and experience required to properly diagnose, treat and maintain trees and lawn health. The company is Accredited by the Tree Care Industry Association and Better Business Bureau. Giroud has also been awarded the Angie's List Super Service Award® every year since 2005. The "Giroud Treework for Charity" program donates free tree care services to parks, historical sites and other non-profit organizations located in the Company's service area. For more information, visit the company website at http://www.giroudtree.com or call 215-682-7704.