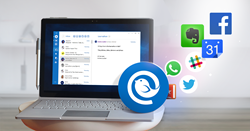 Don't be afraid of making bold moves when it comes to growth experiments. - Alexis Dolle
PALO ALTO, Calif. (PRWEB) August 20, 2019
Mailbird has officially reached the status of a scaleup, as of July 2019, defined by Lorenzo Franchini, founder of ScaleIT, as a company which has had 1 million euros in turnover in the past 12 months and +100% year on year. Mailbird achieved a solid 2,000% growth rate over the last 4 years.
Despite this new-found status, Mailbird's path towards becoming a scaleup was not easy. In June 2015, 3 years after the company was founded, it consisted of a 9-person team with monthly revenues that barely even covered running costs.
No Series A money was raised, just a few small seed rounds, and the team was running on low salaries but high commitments. Little growth was seen before Q3 2015, but a new growth process was implemented in Q3 2015 after the launch of Mailbird 2.0.
Since then, the Mailbird growth team has conducted hundreds of experiments, with 3 people focused on growth and marketing, and 1 developer for implementing these experiments, which provided useful insights – and a better product.
Mailbird has been transformed from being an email client with basic email features to becoming a stable, intuitive and reliable email management tool providing the best possible email experience for Personal and Business users.
Mailbird finally reached profitability in Q4 2015, after some serious financial struggles. Through many targeted and bold growth experiments, Mailbird increased its revenues by 2000% in the past 4 years, and has added more members to its team, bringing it to 11 people.
The key to success? "Looking for profits over growth. Meaning that we make sure our investments are profitable and we cut other opportunities when the potential is too limited," according to Alexis Dollé, VP of Growth @Mailbird. "Don't be afraid of making bold moves when it comes to growth experiments. If you test radical changes, you'll be significantly more likely to get radical results. We got most of our results within a handful of very successful growth experiments."
Following the principles of Growth Hacking from its inventor Sean Ellis, Mailbird's Growth Team implemented a high-tempo testing growth process, so they were able to iterate fast and align its changes and the primary benefits described by users, and scale up quickly. Now, the company is looking to add more employees, and scale even further.
"Keeping employee count low was allowing us to build a strong core team that has a deep understanding of our mission – building a healthy relationship with email – and that know how to work together," says Andrea Loubier, the CEO. "Scaling up the team will now allow us to make sure we leverage the several opportunities we've identified in the past years and work a lot more simultaneously on them."
Mailbird is now looking to hire employees across numerous fields, including developers, design, marketing, content, customer success, and customer support, and its goal is to double its number of employees within 6-12 months.
For more information, interested applicants can contact career (at) getmailbird (dot) com.