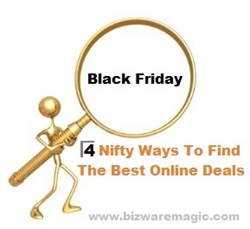 Holiday shoppers can use these four simple online tactics or methods to find the best deals.
(PRWEB) November 25, 2013
Black Friday and Cyber Monday are special holiday shopping events which are firmly fixed in our yearly calendar. Many groan at just the thought of all those long lines and pushy shoppers, while others jump at the chance to get a special item or gift at the lowest discounted price possible. Which shopping cart one falls into, often depends upon how these hectic shopping days are approached. Like most things in life, the devil is in the details.
Bizwaremagic.com, a well established marketing site enjoying its 12th year online, says those shoppers who use a few simple tactics, not only find the best deals but actually cherish the task at hand. These enthusiastic holiday purchasers use the Internet to its fullest potential and understand how it can help them quickly find those special discount coupons and deals. Some just use a few methods, while others employ a whole array of tactics before any shopping is actually done.
These methods could include the use of hashtags, Google alerts, shopping apps... as well as other ways to quickly discover the best deals. The Bizwaremagic site has created a special webpage which describes these tactics in detail and gives other helpful shopping tips and links. In addition, special emphasis is placed on searching for online deals and doorbusters which are usually limited in number and often disappear before most buyers even know about them.
"Finding and getting those special doorbuster deals can be especially tricky," says Titus Hoskins, a former teacher who now runs the Bizwaremagic site. "Not only are quantities limited, but the demand for these discounted items can be enormous, especially on Black Friday and Cyber Monday."
Online or virtual shoppers have to be especially quick because there will be competition from other buyers around the country or even from other parts of the globe. Acting fast and decisively will be the main factor in determining who leaves the checkout smiling and satisfied.
Plus, doing a "little homework" before any of these sales take place, can also prove very beneficial especially when it comes to finding and getting that great discount. Keep in mind, buyers will often be bombarded with offers in the malls and on online sites during those hectic shopping days - knowing exactly what one is buying and the price one is willing to pay goes a long way in cutting down on the stress.
This holiday season, the Bizwaremagic site, suggests everyone should use a few simple shopping/computer tactics to make getting that special discount just a little easier and calmer on the nerves. Before one enters that store or online site, make sure you have one or two of these simple tricks tucked neatly in your arsenal or smart phone.
To discover how to make one's holiday shopping less stressful and find/get the best discount deals on Black Friday & Cyber Monday try this page: http://www.bizwaremagic.com/find_best_online_deals.htm. Bizwaremagic.com is an online business and marketing website, which offers many free guides to its visitors. During the holiday season, a special emphasis is placed on helping its subscribers and patrons find the best online discounts and bargains. To follow/like Bizwaremagic on Facebook go here: http://www.bizwaremagic.org.