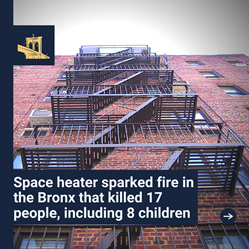 NEW YORK (PRWEB) January 14, 2022
A malfunctioning space heater killed 17 people, including 8 children, in a 120-unit Bronx apartment building last Sunday.
New York communities are grieving after an apartment fire raged through a 19-story apartment building on Sunday. Seventeen people have died in the fire and nearly 60 people were injured, 35 of which are in critical condition and still fighting for their lives.
Victims of the fire also reported that smoke detectors went off frequently, up to 5 or 6 times a day, misleading many into believing there was no threat until it was too late. The fire is believed to have been the result of a defective space heater that residents were forced to keep on to stay warm. Making matters worse, the 1970's apartment building did not have any safety fire escape routes.
Several organizations have developed programs to help those who have been affected by this tragic event. Those who have been displaced by the fire, suffered injuries, and/or lost loved ones can reach out to the following organizations for monetary assistance, survival kits, and additional support.
Organizations Include:

Mayor Eric Adams and the City of New York are also collecting donations to provide victims with emergency relief supplies.
Goidel & Siegel are proud to be a part of a community of people who come together when tragedy strikes. They want to remind residents of a few important safety tips that may help save lives in the event of a fire:
Stay low to avoid smoke inhalation
Stop, drop, and roll
Close doors when escaping
Do not go back inside the building
Call 911
It is also important to implement a fire safety plan in preparation of the unfortunate event of a fire. They encourage families to develop a plan to get out, including at least two ways out of every room.
For more information, call or text 929-593-2024 or visit https://www.goidelandsiegel.com/.
More About Goidel & Siegel
There may be multiple parties legally responsible when these tragedies occur. The Goidel & Siegel injury lawyers have helped the people of New York City recover thousands of dollars for over 30 years.
The insurance companies and legal defense departments take this team seriously. Goidel & Siegel fight endlessly to get their clients the compensation that they deserve.
Reach out to the Goidel & Siegel burn injury lawyers today if you or a loved one has suffered from an injury or death caused by a fire.