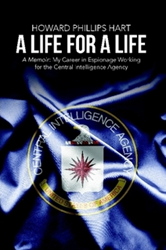 FREE UNION, Va. (PRWEB) June 24, 2015
For most people, the Cold War was a far-away war, a war of secrets and cover ups. For retired CIA agent Howard Phillips Hart, it was more real than anything else in his life.
In his new memoir, "A Life for A Life: A Memoir: My Career in Espionage Working for the Central Intelligence Agency" (published by Lulu), Hart invites readers to join him on these covert missions and see a side of the Cold War that was never publicized.
Hart's earliest memories are of Los Banos Internment Camp. He and his parents were American citizens living in the Philippines during the outbreak of WWII, and they, along with 2,000 others, were held captive in a Japanese camp. The experience sparked his interest in world affairs and compelled him to serve and protect his country.
In 1965, Hart joined the CIA and became an integral part of covert operations during the Cold War. He was involved with the Iranian Revolution, and he planned, started and led a daring covert action against the Soviets during their invasion and occupation of Afghanistan. In 1980, Hart directed the CIA agents involved in the ill-fated attempt to rescue the American Embassy hostages in Iran.
Before retiring, after 25 years of service, Hart founded the CIA's Crime and Counter-narcotics Center. His book chronicles these adventures and many more as he looks back on his impressive career and offers an intimate portrait of a real-life spy.
"A Life for A Life"
By Howard Phillips Hart
Softcover | 6 x 9 in | 148 pages | ISBN 9781483430256
E-Book | 148 pages | ISBN 9781483430249
About the Author
Howard Phillips Hart was born in St. Louis and raised in the Philippines. Joining CIA's National Clandestine Service in 1960, he was one of the most highly decorated CIA officers of his generation. He attended Cornell University and the University of Arizona, and has both B.A. and M.A. degrees in Oriental studies. He previously published "Intelligence Thoughts: Developments in Iran, Iraq, and Afghanistan."
Lulu empowers people of all ages to explore and express their interests, passions and expertise through books, photography and art. Since introducing self-publishing in 2002, Lulu has empowered creators in more than 225 countries and territories to produce nearly two million publications. Lulu Jr. allows children to become published authors, encouraging creativity, strengthening literacy and building self-esteem. Picture.com offers professional photography of collegiate and professional sports, memorable and historic events, fine art and home décor. For more information, please visit lulu.com.