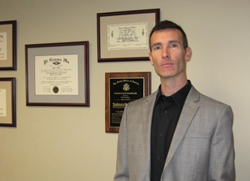 Credit Sesame's John Ulzheimer: I've seen plenty of 850s in my day, but I've never seen someone have the same score across all three credit bureaus. That's actually more uncommon than a perfect score.
Orlando, FL (PRWEB) April 04, 2015
Following JPMorgan Chase's announcement this week that it would participate in FICO's Open Access Program, SubscriberWise founder and the only consumer in the history of credit scoring to achieve simultaneous perfect FICO and Vantage scores across all national credit bureaus, offers consumers new and unique insight behind his perfect scores.
"Understanding the intricacies of a technology that today drives a myriad of decisions – well beyond the world of banking and finance – has many lasting and positive implications," emphasized David Howe of SubscriberWise. "For example, with FICO 9 technology as a leading component in its award-winning decision and rules technology, SubscriberWise – for nearly one decade and counting - has continuously generated an average annual ROI in excess of 2500 percent while also protecting billions of dollars of capital investment and programming costs for the nation's communications operators.
"From SubscriberWise's perspective, these are indeed lasting and positive implications, argued Howe. "For consumers individually, it's well accepted that understanding credit and FICO scores in particular has profound financial and life impacts - including both challenges and opportunities that flow from the industry-coined term 'financial responsibility'."
"According to the Fair Isaac Corporation, a FICO score is based on a segmentation tree with about 20 segments," explained Howe. "These segments are also described as 'leaves' in white papers published by Fair Isaac (http://www.fico.com/en/node/8140?file=7900). FICO explains that, in general, 'the depth of the segmentation tree depends on the amount of data available, the complexity of the interactions displayed in a fitted relationship, and a multitude of operational considerations'. In other words, to increase predictive power and ensure the most precise and accurate rank-order (i.e. 300 to 850), the FICO score is a highly complex mathematical algorithm that relies on scorecards as an underlying component of its technology and capabilities."
"In my own highly unique case, each of my personal credit files (at Equifax, Experian, and TransUnion) just happened to occupy the particular combination of FICO's 'characteristic bins' (i.e. payment history, age of file, debt ratio, etc.) with the maximum possible score weights necessary to generate simultaneous perfect 850 FICO scores - including simultaneous perfect Vantage scores calculated on the same credit bureau data that generated 850 FICO scores," confirmed Howe. "And to that end, as part of SubscriberWise's own open-access and educational agenda, the following are details from one of my Equifax consumer files that generated a perfect 850 FICO score:

Payment history: 0 missed payments
Collection accounts: 0
Public records: 0
Ratio of revolving balances to credit limits: 1 percent (according to FICO, a ratio of < 6 percent is indicated as the average for FICO high achievers)
Age of credit file: 27 years
Average age of accounts: 11 years
Number of accounts carrying a balance: 2 (1 revolving bankcard and 1 conventional mortgage)
Revolving and open-ended balances: $253.00
Mortgage balance: $1,236.00
Installment balance: $0.00
Oldest revolving account opened: 11/1986
Most recent revolving account opened: 09/2005
Credit Mix
-2 real estate accounts
-8 revolving accounts
-8 installment accounts
-7 open accounts
-11 closed accounts
-18 total accounts

Inquiries: 0
FICO and Vantage Score LLC percentile compared to all U.S. consumers: 100th percentile
"Among other proprietary scorecard factors, it should be noted that to occupy a FICO scorecard with the maximum 850 points a file must contain a mix of one revolving account with a low balance relative to the total available credit and one installment account, in addition to no adverse information or delinquency," Howe concluded. "At least that's been proved true for my specific credit profile and on numerous occasions: I've maintained perfect 850 FICO scores - with monthly fluctuations - for an entire year; the 850 FICO score is not as elusive as one might think."
Credit Sesame's John Ulzheimer, a U.S. nationally recognized credit and FICO expert — "That's great David. Not only did you max out your scores but I think you did something else even more impressive. You were able to achieve the same score across all three credit bureaus. I've seen plenty of 850s in my day, but I've never seen someone have the same score across all three credit bureaus. That's actually more uncommon than a perfect score."
Related: Howe Achieves Perfect 850 at SunTrust Bank: http://www.prweb.com/releases/2014/12/prweb12410514.htm
About SubscriberWise
SubscriberWise® launched as the first U.S. issuing consumer reporting agency exclusively for the cable industry in 2006. In 2009, SubscriberWise and TransUnion announced a joint marketing agreement for the benefit of America's independent cable operators. Today SubscriberWise is a risk management preferred-solutions provider for the National Cable Television Cooperative.
SubscriberWise contributions to the communications industry are today quantified in the tens of millions of dollars annually.
David Howe is founder and president of SubscriberWise. He is also a consultant and credit manager for MCTV. During his 18-year career at MCTV, Howe has reviewed more than 50,000 credit submissions. His interest in credit began in 1986 while a 17-year-old student in high school.
Howe is the only known individual – living or deceased – to have obtained simultaneous perfect FICO 850 scores across every national credit bureau. Howe has also obtained simultaneous perfect Vantage scores at Equifax, Experian, and TransUnion.
Howe has obtained FICO Professional Certification and is also the first and only citizen of the world to describe and report the details of the perfect FICO and Vantage scores to U.S. reporters.
Howe produced and published two videos on the subject of perfect credit: FICO 850 Credit Report Facts and FICO Scores: The Facts. The first general-purpose FICO scores were debuted a quarter century ago.
SubscriberWise is a U.S.A. federally registered trademark of the SubscriberWise Limited Liability Co.