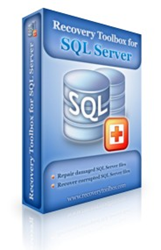 a specialized recovery tool that knows how to repair MDF file data better than all of its nearest competitors.
Sacramento, CA (PRWEB) May 28, 2014
Recovery Toolbox, a well-known supplier of data recovery tools for various applications and file formats, announces the availability of an updated version of Recovery Toolbox for SQL Server, one of the most efficient and functional products of this type on the market – now with a powerful new engine written from scratch. http://www.sql.recoverytoolbox.com/
Intended for users who are trying to figure out how to repair MDF file data on their own, this compact, yet powerful tool completely automates the process of database recovery and reduces it to a few simple steps that even complete novices can handle without a problem. The program has a convenient wizard-driven interface that makes data recovery extremely easy even for the most inexperienced users. http://www.repairsql.recoverytoolbox.com/
To make the process even easier for those who don't know how to repair MDF file data, the developers of the program equipped it with an all-new engine that is capable of extracting more data from damaged files than ever before. The program comes with a convenient viewer that helps users get the full picture of database corruption and view recoverable records. http://www.recoverytoolbox.com/help_sql.html
Recovery Toolbox for SQL Server restores the most essential elements of damaged MDF databases: system and user tables, views, stored procedures, user-defined data types and functions. These data can be saved either directly to a database or as a set of SQL scripts on the user's hard drive. http://www.recoverytoolbox.com/faq_import_saved_scripts_into_database.html
The software works with databases of virtually any size (up to 16 TB) and supports SQL Server databases of all major formats, including Microsoft SQL Server 7.0, 2000, 2005, 2008 and 2008 R2 among others. Users looking to find out how to repair MDF file data do not need any special knowledge or training – the program offers a very straightforward and self-explanatory approach to data recovery.
"We are glad to be offering possibly the best SQL Server database recovery tool available on today's market," commented Victor Bobrov, Senior Product Manager at Recovery Toolbox. "The previous versions of the program were extremely popular among developers, database experts and administrators, and we hope that the new version will help a lot more users deal with the results of database corruptions of all sorts."