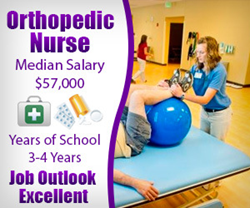 In fact, career opportunities in this field are expected to grow by 26 percent between 2010 and 2020. This is estimated to be an additional 71,900 new jobs.
Columbus, OH (PRWEB) February 26, 2014
In fact, the need for nurses, particularly those specializing in Orthopedic Nursing is quite real. According to the guide "How to become an Orthopedic Nurse", the career outlook is strong for nurses who choose to specialize in orthopedics. In fact, career opportunities in this field are expected to grow by 26 percent between 2010 and 2020. This is estimated to be an additional 71,900 new jobs.
According to the author of the guide, Elizabeth Hansen, a major factor in the increase in jobs in this specialty is that the US population is aging. "The aging population is often at risk for orthopedic injuries, such as bone fractures," said Hansen.
She further believes that an aging population will require joint replacements more than any other population in the country. "Both those rising injuries and those needing joint replacements are pointing to a likely increased need for nurses with skills in the orthopedic arena," said the Orthopedic Nursing Career Guide author.
The Guide provided comprehensive information on such areas of the profession as Salary, Job Description, Education, Certification & Licensing, and Job Outlook. There also extensive information to various links and other resources specific to the specialist orthopedic nurse.
Concerning the average take home of an orthopedic specialist nurse, the average median salary is about $57,000 per year. According to the source, the lowest 10 percent earn around $46,240, while the highest 10 percent earn about $81,000 annually.
Notwithstanding the encouraging annual take home salary of the orthopedic nurse, Hansen says where one works will also greatly affect one's earning power.
"For example, if you are working for a nationally-recognized hospital system, you will command a higher salary than if you were to work for a smaller rural or suburban hospital. Other factors to take into consideration include your individual level of experience, how much education you have and the area of the country that you will be working in," she explained.
With this specialist nurse working in all aspects of orthopedic care and rehabilitation, including a health care team to prepare patients for discharge, the orthopedic nurse works in a variety of areas, include the following:

Emergency departments
Adult orthopedic units
Adult medical-surgical units
Trauma units
Rehabilitation units
Home health care agencies
Operating rooms
Pediatric orthopedic units
Pediatric medical-surgical units
Gerontology units
Oncology units
An orthopedic nurse will often be asked to perform a large variety of duties on a day-to-day basis. However, while their tasks will vary depending on employer, some common orthopedic nurse tasks include the and assessing new patients, assisting orthopedic surgeons, monitoring surgical sites, patient vital signs, post-operative follow-up, patient's condition and reporting any abnormalities or improvements, and educating the patient and provide support.
However, in addressing those persons who wish to find employment as an orthopedic nurse, Hansen notes they must first possess an associate or bachelor's degree in nursing from an accredited US nursing program, be an active registered and licensed nurse, and prior registered nursing experience – usually six months to a year.
For further information about the newly published post on Orthopedic Nurse Salary and Career Guide, please visit the following website: http://nursing100.com.
Author Bio
JC McClain is the senior editor for Nursing100.com.