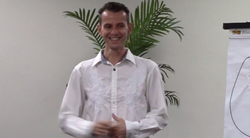 The secret to happiness is to not look for it. As it is an illusion. Seek joy by becoming present and knowing yourself.
Huntington Beach, CA (PRWEB) April 30, 2014
It can be easy to get caught up in the high-demand of modern life. As a society, people are constantly drawn to their mobile devices for either work, school, and just the need to be constantly connected to friends. Because of this high-demand lifestyle many are leading, often times people feel disconnected to what really matters; happiness and living life in the present. Now two new videos released by Conscious Counselor discuss these two important topics to living a worthwhile life.
"We literally make ourselves feel so bad and just because of something that we did or said. We literally are our worst own enemy. It's not the physical act or the physical saying that is really that bad, it's the aftermath, the wrath that we give ourselves that literally gives us diseases," says Sead Pepic, spokesperson of Conscious Counselor.
Pepic says by asking yourself what emotions, feelings, or people you are surrounding yourself with can have a powerful impact as to where a person stands in their life and what they can do to change it.
Pepic and his guest during the interview talk about frustration that often generates from spending time on the expressway. The speakers talk about just acknowledging the anger and other feelings generated can have a powerful impact on a person being able to filter one feeling to a more beneficial one. For a full video on this, please click on how to become happy using presences
Fear is also a big object that limits what people do and what they accomplish in their lifetime. "Ask yourself 'what are you afraid of?' Imagine the worst outcome possible. In the end you are still alive, you are still you. [Recognizing the fear] is looking at what is literally controlling you," says Pepic.
These counselors at Conscious Counselor help clients with a variety of issues including fear, love, lifestyle, controlling emotions, and more.
In this video made by Conscious Counselor, the counselors explore five ways to "get present." By defining ways to reevaluate a person's life right then and there, the counselors help others reiterate what is important to them and gain control of emotions and experiences. For the full video, please go to: https://www.youtube.com/watch?v=Qgf0IfMNWTM
According to Pepic, presence is the ultimate truth that cannot be moved and not be damaged.
The five ways or steps to "get present" include breathe, be aware of surroundings, feel your body, feel your emotions, and view your thoughts.
"Every good teacher will say to [breathe] before doing anything challenging," says Pepic. By breathing and grounding yourself before reacting or responding to something that may have a powerful impact in a person's life.
The second step to living in the presence is to pay attention to your surroundings. Knowing what is going on around someone makes the person more in control of their life and the situation. Going side to side with this is to feel your body, the third step to living in the presence. Paying attention to your body during a feeling of disorientation can help a person gain control of a situation or conversation as well.
Feeling your emotions, the fourth step to living in the present, can alter the way others perceive a person and also help gain control of an environment. "You are not wrong for feeling sad. You are not wrong for feeling happy, or miserable. When you shove that misery down, that misery doesn't go anywhere. It stays there. Happiness. Do you shove happiness down? It comes and goes. Misery, all of a sudden we shove it down. Guess what? It comes but it doesn't go. When we shove it down it says with us and then controls us. So look; pay attention to your feelings," says Pepic.
The last technique Conscious Counselor discusses is to view your thoughts whenever a person gets a chance. By doing this a person can be an observer of an experience and evaluate it more effectively to react in a more positive way. This allows a more holistic approach to a current situation and explore a person's mind in a different way.
By living life in the present and remembering the core of happiness, many people will find that their life will improve drastically by looking at their current life and life situation as a whole. Happiness and living life in the present is not something that can be bought, but rather a mindset that can be achieved through critical thinking and being in touch with a person's body.
Sead Pepic has recently started an organization called Conscious Counselor which brings awareness to our everyday living. With awareness, comes a broader scope of choices that we have. With more choices comes choosing what is more ideal for us, hence giving us a much more rich and fulfilled life. Some of his other videos are: how to deal with your emotions, the differences between men and women, how food affects the body, and a more in depth video on food that talks about meat and raw yogurt. You can look up Conscious Counselor on youtube to find these videos.
Sead Pepic
Conscious Counselor
(845) 494-0969
http://ConsciousCounselor.com