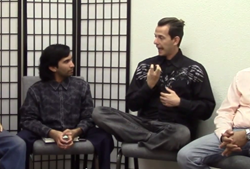 How to truly deal with emotions
Los Angeles, CA (PRWEB) July 29, 2014
When a feeling of warmth overcomes someone due to sadness, fear, anxiousness, or even happiness; it can be difficult to completely understand that feeling or emotion. Especially if someone has never felt that way before, it can be hard to translate that into something that someone else can understand through conversation. When feeling a new emotion, many people panic and react with an extreme response. A new video released by the California-based organization, Conscious Counselor, explains to people of all ages how to deal with their emotions.
Early on in the video released by Conscious Counselor, the roundtable of participants talk about silence and the benefits it can have on lifestyle. By reflecting on oneself and their emotions, many different types of feelings can arise, which is where the conversation flows into one about dealing with these extreme emotions. For the full video on this, please click on: How to deal with your emotions.
"Allowing myself to hear what is going on inside me. Allowing things to come up. My thoughts and especially my emotional reactions to them. If I was practicing silence for the first time, I think that the biggest lesson I would want to get out of it, first starting off, is that when I let myself feel my emotions and I don't try to explain them [or] judge them [or] fix them, I forget about the idea that I am wrong for feeling this. If I let that all go [and think] this is what this feels like," explains Alex Gurevich.
Gurevich continues to explain that when these emotions overcome a person, it is okay to feel those emotions and be a little afraid. Gurevich says that telling yourself these emotions are okay and normal to experience, helps with overall reflection and well-being.
By experiencing silence or a reflection of oneself, this can cause a lot of noise, says Quin. He explains that these emotions that someone experiences during a time of reflection are just feelings that have not been defined by a person yet, so they may seem a little intimidating.
"Don't worry about how you're feeling, just feel it. You didn't go to school for silence. You didn't go to school for feeling your emotions. So there is so much in there that just wants to come out and just let it, as long as it's not hurting anyone else or yourself, experience it and let it come out," says Quin. For the full video, please click on, http://www.youtube.com/watch?v=-AVtPiRE3CU.
Whether a current state of emotion stems from love, grief, panic, or confusion; emotions are perfectly normal for both men and women to have. Some types of emotions are stronger than others and a body reacts to that emotion by increasing heart rate, sweating, or shaking.
Kundan Chhabra, states, "There is nothing wrong with feeling what you feel. Even if you're going crazy, there's nothing wrong with you."
Although emotions are an incredibly normal thing to experience, expressing those emotions are sometimes seen in culture as a sign of weakness. Especially for men to show emotion, many people in different cultures see that as weakness, which may be why men can be incredibly hard for women to understand.
"You must fully experience your emotions," says Rich Governali. "You can't stuff them down. That is the beginning of illness. When you squelch these feelings and these emotions you are just building up all this anger and from that, disease is born."
No matter the age, no matter the gender, it is important to reflect on emotions and come to understand oneself so these emotions are not dangerous. Especially built up anger or aggression can be like a ticking time bomb waiting to go off on the wrong person.
Quin has recently started an organization called Conscious Counselor which brings to light healthy ways for living. This is for all subject matter, whether it is food or every day life. Some of his other videos are: Becoming happy and staying present, overcoming fear, the masculine and feminine defined, and more. You can look up Conscious Counselor on you tube to find these videos. Or to stay connected with Quin, please visit him on facebook: https://www.facebook.com/sead.pepic.14.
Qiun
Conscious Counselor
(845) 494-0969
http://www.ConsciousCounselor.com