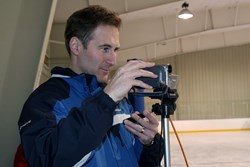 Adult skaters and even skating families have been joining in larger numbers.
Madison, WI (PRWEB) August 31, 2013
"How to figure skate" and "How to teach figure skating" video website iCoachSkating.com has just announced a list of its latest published videos. These educational figure skating videos are intended for figure skating coaches, skating parents, youth figure skaters and those participating in adult figure skating. The videos cover such topics as figure skating jumps, figure skating spins, and other figure skating moves.
iCoachSkating.com was created in 2008 to provide convenient and high-quality educational material for figure skating coaches on the Internet. The website was created by Trevor Laak, an active figure skating coach, as a way to share cutting-edge teaching techniques from top coaches from around the world. Although originally intended primarily for coaches, access has now been provided to all figure skating participants. "We find that coaches still get the most out of the site, but adult skaters and even skating families have been joining in larger numbers. The quality of the information is what's driving our growth," said Laak.
The complexity and wide range of skills required by figure skaters and figure skating coaches is extreme. Therefore, the breadth and variety of topics covered by the figure skating videos at iCoachSkating.com is extremely broad. By design, the iCoachSkating.com faculty has a broad set of skills, although many of the presenters are experts in specific areas of the sport. The faculty includes Olympic coaches Audrey Weisiger, Michelle Leigh, and Frank Carroll.
The latest video to be posted this month is Page Lipe's Compulsory Figures – Backward Inside 8 . Page Lipe continues her discussion of compulsory figures (also called school figures). In the previous videos in this series, Page laid out a set of circles without using a scribe and discussed the forward outside 8.
The analysis of the month hosted by Trevor Laak is Comparing Triple Lutz Technique. Trevor Laak provides a computer analysis of 3 different triple lutz jumps. The skaters performing the jumps are Ryan Bradley, Brandon Mroz, and Max Aaron who were on a practice session at the recent 2013 Grassroots to Champions Supercamp last month.
Olympic coach Michelle Leigh uses walley jumps to warm up her skaters for double axel and triple jumps. In this video, Michelle shares an exercise she uses to warm up the walley and then uses the walley in a sequence of jumps.
Matthew Blair Davis shares some valuable off-ice workouts for figure skaters. The purpose of these off-ice training sessions is to improve core strength and improve overall strength and endurance. The three videos on the page are off-ice workouts for 3 separate skaters.
In Figure Skating Off-ice Training: Off ice class – Part 1 and 2, Kori Ade leads an off-ice figure skating jumps class. In Part 1, Kori had the class do heel clicks and air turn variations. In Part 2, the class focuses again on quickness and rhythm, with some work on balance as well.
In Edge Class – Part 4 and 5, figure skating choreographer Chris Conte continues with his class on edges and power generation. In part 4, Chris introduces two foot forward pulls. The purpose of this exercise is to develop proper alignment and edge usage while keeping both feet on the ice. In part 5, Chris explains that he takes away a skater's arms for many drills in an effort to keep the skater focused on good posture and overall alignment while staying relaxed.
Karen Olson explains and demonstrates how she teaches backward power pulls for skaters just learning power pulls and those working to pass the US Figure Skating Pre-Juvenile Moves in the Field test. This is a continuation of a recent video Karen did on forward power pulls. Karen also did a video a while back on power pulls but the newer videos cover them in more detail.
These videos represent a set of presenters and topics, covering an broad range of skills from basic skills for very young skaters to elite jump technique for advanced skaters. Each video contains multiple figure skating tips and tricks as well as detailed explanations of the underlying foundational concepts.
iCoachSkating.com is currently open to new subscribers. Subscriptions are available on a monthly, 6-month, and annual basis and are renewed automatically. Those interested in "how to figure skate" or "how to teach figure skating" are encouraged to Like the iCoachSkating.com Facebook page, follow iCoachSkating.com on Twitter, or sign up for free updates on the home page of the website. Subscribers currently have access to over 500 figure skating videos on the website.
About: Founded in 2008 by figure skating coach Trevor Laak, iCoachSkating.com is the premier online training and educational resource for all figure skating participants, providing instructional figure skating videos on a broad range of topics, including figure skating jumps, figure skating spins, and other figure skating moves. The website has helped thousands of figure skating coaches, adult figure skaters, figure skating parents, and youth figure skaters by providing cutting edge training techniques and information about how to figure skate and how to teach figure skating. The company's mission statement is "to inspire a new era in figure skating education based on updated information and ideals, so quality information is available to all skaters and coaches in a convenient and cost effective manner." To learn more about iCoachSkating.com, please call (608) 827-3035 or visit them online at http://icoachskating.com.