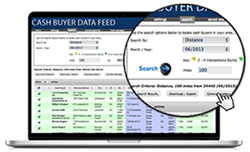 Using the system is easy for me, even though I don't consider myself to be very tech savvy.
Miami, FL (PRWEB) April 01, 2014
Real estate investors looking to make fast profits in their business understand the importance and value of cash buyers. Knowing how to find cash buyers who are ready, willing, and able to buy properties is one of the keys to selling properties fast and creating a profit in the real estate business.
CashBuyerDataFeed.com, the leading online resource for real estate investors who are looking for cash buyers that are paying all cash for properties, is excited to announce that today they've added 71,657 new, verified cash buyers to their database.
Each month CashBuyerDataFeed.com updates their databases with new cash buyer so its users can easily and quickly search for cash buyers nationwide who might be interested in purchasing an investment property for all cash.
"Using the system is easy for me, even though I don't consider myself to be very tech savvy", say's Julie Owens a new user of the Cash Buyer Data Feed system. "I simply log in, type in the zip code, city or state that I want to search for cash buyer sin and click search. Within a few seconds the system gives me a list of cash buyers who have been recorded in the public record as having invested all cash on a property in the last 30 days in that area."
CashBuyerDataFeed.com has been helping investors all over the country for years. On top of that, they provide mailing information for every cash buyer in their database, so users can easily contact them with direct mail. CashBuyerDataFeed.com has also recently added the ability to get phone numbers for many of the cash buyers as well, which is a feature many investors are sure to love.
With the ability to now reach out and contact cash buyers immediately, it truly has never been easier to find investors with cash that can buy a property and in the end that's one of the keys to making consistent money in the real estate investing business, isn't it?
Those interested in finding cash buyers in their markets or nationwide can do so by visiting http://www.CashBuyerDataFeed.com and taking advantage of their special risk-free trial offer today!