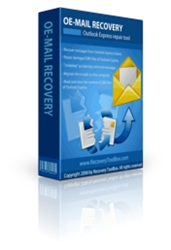 an advanced solution for DBX file recovery.
Sacramento, CA (PRWEB) June 25, 2014
Recovery Toolbox, a company developing a broad spectrum of data recovery tools for popular applications, presents a globally updated version of OE-Mail Recovery, an advanced solution for DBX file recovery. The product helps users who don't know how to open *.dbx file data to restore their emails after all types of data corruption accidents. http://www.opendbxfile.oemailrecovery.com/
The newest version of the program received a brand-new recovery core developed by the company's experts that leverages the power of advanced file analysis algorithms to deliver excellent results even in situations where all other solutions fail. OE-Mail Recovery efficiently restores emails and attachments from Outlook Express data files over 2 GB in size, supports DBX files of version 5 and above, and saves them in the EML format on the user's hard drive. http://www.oemailrecovery.com/
Recovered messages can be immediately imported into Outlook Express or any other email application supporting the EML format, or backed up to a safe location. The program never modifies the source DBX files, thus enabling users to resort to alternative recovery methods, if necessary. The user of a new data analysis core enabled the authors of OE-Mail Recovery to achieve record recovery efficiency and speed, making the new product the leading tool of this type on the market. http://www.outlookexpressproblems.oemailrecovery.com/
Since the program was developed for a very wide audience, including advanced users and novices, the interface was simplified to the maximum and contains just a few key elements. The DBX recovery process is nearly completely automated, which makes it a perfect choice for users facing the results of data corruption and willing to know how to open *.dbx file data on their own and without letting the data leave their system.
"We are proud to present a completely new version of OE-Mail Recovery. If hasn't just received a facelift, but was completely rebuilt from the ground up," explained Victor Bobrov, Head of Technology at Recovery Toolbox. "The engine we are currently implementing into all of our products demonstrates outstanding results in formerly hopeless situations and we are very excited to offer our customers a new tool that finally can solve their problems." http://www.outlookexpressrepair.oemailrecovery.com/