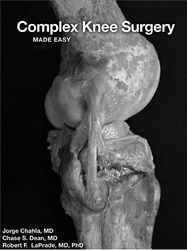 "This work was comprised to try and benefit surgeons and their patients by providing a comprehensive overview of complex knee injuries," said Dr. LaPrade.
Vail, Colorado (PRWEB) February 23, 2016
Drs. Robert LaPrade, Jorge Chahla and Chase Dean at the Steadman Philippon Research Institute have published "Complex Knee Surgery Made Easy", the first free educational interactive digital book of its kind in sports medicine. This comprehensive book was designed to be a resource for physicians, physician assistants, athletic trainers, physical therapists and patients who are interested in having a better understanding of surgical knee procedures. Now available for free on iTunes (iBook Store), the book details how to perform knee surgery through the use of quality multimedia images, videos and interactive links. The instructions take the reader through:

Knee anatomy structures
Diagnostic tips for knee conditions
Demonstrations of surgical techniques for specific knee injuries
Postoperative instructions and rehabilitation protocols
This book is visually designed to review the most common sports medicine pathologies in the knee. The chapters are loaded with pictures and videos that maximize comprehension. The book is formatted in bullet point style to facilitate the reader's experience. It can also serve as a quick review for a surgical procedure where the main tips are highlighted to achieve successful outcomes.
Dr. LaPrade said, "This work was comprised to benefit surgeons and their patients by providing a comprehensive overview of complex knee injuries. I frequently receive consultations from colleagues, almost daily, and through this work we have attempted to provide answers to many of the common questions that I am asked. It is a pleasure to be able to provide this work to the medical community."
The first step to a successful surgical outcome is an accurate diagnosis. Since a physical exam is the most important diagnostic tool, the book includes videos demonstrating proper diagnostic techniques. A thorough exam will help determine the exact location of a lesion; therefore, it is vital to establish a systematic exam in order to avoid missing any important clinical features. Magnetic resonance imaging (MRI) is essential in differentiating between injuries and enables a physician to locate the precise site and severity of lesions. This book provides a series of educational videos taught by Dr. LaPrade on how to properly identify different knee injuries through MRI.
Over the course of nine chapters the following knee anatomy structures are addressed:
Anterior cruciate ligament (ACL)
Posterior cruciate ligament (PCL)
Medial and lateral structures
Multiligament injuries
Proximal tibiofibular joint
Patellofemoral joint
Meniscus
Cartilage
Knee alignment
"Dr. Chahla and I are thrilled to be able to share the knowledge that Dr. LaPrade has taught us. We are excited that people all over the world will be able to learn from Dr. LaPrade. We would like to thank Dr. LaPrade for his mentorship, as well as the Steadman Philippon Research Institute," said Dr. Chase Dean.
"Complex Knee Surgery Made Easy" is available for free download on iTunes.
About Robert LaPrade, MD, PhD
A complex knee surgeon and sports medicine specialist at The Steadman Clinic in Vail, Colorado who has successfully treated many high level collegiate, professional, and Olympic athletes, Dr. Robert LaPrade is dedicated to medical education and research. As the Chief Medical Officer and Co-Director of the Sports Medicine Fellowship Program at the Steadman Philippon Research Institute Dr. LaPrade has published over 250 peer-reviewed studies. He is recognized as a pioneer in knee research, with many referrals from international and nationally recognized physicians due to his successful patient outcomes and his development of more effective surgical techniques for the reconstruction of complex knee injuries. Dr. LaPrade is personally committed to teaching physicians around the world how to perform knee surgery using the innovative techniques developed by his research team.