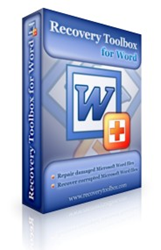 The program is a powerful all-in-one tool for quick and extremely efficient extraction of text from damaged Word documents.
Sacramento, CA (PRWEB) April 29, 2014
Recovery Toolbox, a software developer known for its substantial expertise in the field of data recovery and the developer of an entire line of data recovery tools, releases an updated version of Recovery Toolbox for Word. http://www.repairword.recoverytoolbox.com/
This update includes a completely new engine and text recovery algorithms, multiple bug fixes, optimizations and a host of other improvements that make the program the best choice for users who want to know how to repair a DOCX file on their own. The interface of the program consists of a few quick steps of an integrated wizard and makes the program 100% accessible to users with no recovery experience at all. http://www.recoverytoolbox.com/help_word.html
Recovery Toolbox for Word is a text extraction tool, which means that it will not restore images or formatting from a damaged document. However, the text cleanup mechanism used in this version produces clean and readable text that has no system characters, unclosed tags, spaces and other "junk elements." http://www.recoverytoolbox.com/word.html
Users who don't know how to repair a DOCX file will appreciate the possibility to perform text extraction in a completely automatic mode. The product supports all major types of Word documents, including .doc, .docks, .dot, .dot, and .rtf, and is fully compatible with the popular versions of MS Word used today.
"The new version of Recovery Toolbox for Word takes DOCX recovery to a totally new level, since the updated engine produces amazingly clean text in seconds, and works beautifully even with badly damaged files," noted Victor Bobrov, Senior Developer at Recovery Toolbox. "DOC and DOCX file corruption is a common problem these days, so if you work with multiple Word documents coming from various and often unreliable sources, this is a tool for you."
The demo version of the tool can be downloaded free of charge from the official website of Recovery Toolbox. http://www.recoverytoolbox.com/