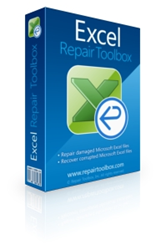 a largely updated version of Excel Repair Toolbox, now featuring a new core and multiple other improvements.
Sacramento, CA (PRWEB) June 04, 2014
Repair Toolbox, an established developer of specialized recovery tools for the most popular mainstream applications, presents a major update for Excel Repair Toolbox, one of the company's most successful products and a powerful recovery tool that knows how to repair Microsoft Excel file data better than all of its closes competitors. Based on a completely new engine that was developed from scratch, the product offers unmatched recovery efficiency coupled with a highly intuitive UI. http://www.excel.repairtoolbox.com/how-to-repair-excel-file-online.html
Excel Repair Toolbox is a specialized data recovery tool for Excel documents that is capable of restoring the contents of damaged spreadsheets after the most devastating data corruption accidents. The new core leverages the power of advanced data analysis algorithms to extract as much data as possible even in situations when a file appears to be damaged beyond recovery. http://www.excel.repairtoolbox.com/
Since the program is intended for a very wide audience, the interface contains a minimum of control elements and can be efficiently used by people with no experience in the field of data recovery who are willing to find out how to repair Microsoft Excel file contents on their own. http://www.repairtoolbox.com/download.html
The program recovers the majority of essential elements of damaged XLS/XLSX files, including formatting (styles, formats, fonts, borders, colors and more), cell values, formulas, functions and references. The product is compatible with all versions of Microsoft Excel and Windows, and requires absolutely no additional components to be downloaded. Excel Repair Toolbox is an essential tool in the collection of any system administrator dealing with the consequences of XLS data corruption on a regular basis.
"The release of a new version of Excel Repair Toolbox is an important step towards a complete renovation of our product line," explained Ivan Bobrov, Senior Product Manager at Repair Toolbox. "The improvements introduced in the new version make it a perfect choice for those willing to learn how to repair Microsoft Excel data without outsourcing this task to external services."
A free demo version of Excel Repair Toolbox is available for download on the official website of Excel Repair Toolbox. http://www.repairtoolbox.com/