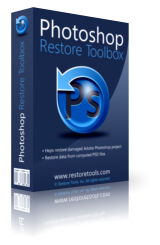 the program knows how to restore corrupted .psd files after the most devastating data corruption accidents.
Sacramento, CA (PRWEB) July 29, 2014
Restore Tools, an established developer of specialized data recovery tools for a broad range of popular applications, is glad to announce the long-anticipated release of the updated Photoshop Restore Toolbox. The program is intended for all users trying to find out how to restore corrupted .PSD files containing damaged data and features an advanced file analysis core capable of handling the most complex cases of data corruption. http://www.photoshop.restoretools.com/
Photoshop Restore Toolbox uses a powerful proprietary engine that fully supports all major versions of the Photoshop PSD format and provides everything necessary for quick, easy and cost-efficient PSD recovery. Initially developed as a tool for everyone, the product offers the highest level of process automation and requires virtually no user involvement. http://www.restoretools.com/download.html
To make the procedure even easier for inexperienced users, the authors of the program equipped it with a convenient step-by-step wizard that transforms PSD recovery into a chain of simple selections and confirmation clicks. A simple built-in file content browser makes it possible to view the structure and objects of a damaged file in the text form and select particular object properties to be recovered. http://www.restoretools.com/products.html
Photoshop Restore Toolbox accurately recreates damaged files layer by layer and saves them to new and healthy PSD files ready for further editing. The program is primarily intended for graphics professionals using Photoshop on a daily basis, network administrators and regular users who want to know how to restore corrupted .psd files, yet to stay on the budget and avoid contacting expensive data recovery services. Photoshop Restore Toolbox works "right out of the box" and requires absolutely no additional components or utilities to be downloaded.
"The cost of labor put into some PSD file can be astronomical, and their corruption a real tragedy. We have created a tool that helps save as much of PSD file data as possible in minutes," explained Lead Software Engineer at Restore Toolbox. "Even if you don't know how to restore corrupted .psd files, Photoshop Restore Toolbox will do the job in a wink of an eye thanks to its brand-new engine. We hope that users will see the true value of the product and the advantages it provides shortly after its release."
The free demo version of Photoshop Restore Toolbox can be downloaded from the official site of its manufacturer. http://www.restoretools.com/