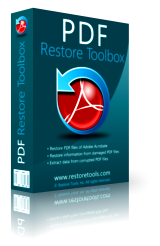 PDF Restore Toolbox, arguably the most efficient and advanced products of its type on the market.
New York, NY (PRWEB) July 15, 2014
Restore Tools, an established developer of data recovery solutions for the most popular products, is glad to announce the release of a major update for PDF Restore Toolbox, one of the company's most sought for tools. http://www.pdf.restoretools.com/
The program restores the contents of damaged Adobe PDF documents regardless of the cause of file corruption (from file system errors and a failed hard drive to a virus attack or broken connection), its size and structure. PDF Restore Toolbox has a very broad target audience, hence the extreme simplicity of its interface, which is based on a step-by-step wizard and is totally suitable for users of all skill levels. http://www.restoretools.com/
The program takes recovery automation to a new level and requires the user to perform just one simple action – select the damaged source file. The rest is done by the uniquely powerful engine that relies on several intelligent algorithms to extract and save the maximum of data. For extra convenience, the tool lets the user select the version of the destination PDF document manually, if it shouldn't match that of the original file. http://www.restoretools.com/products.html
The software supports all major versions of the PDF document format, can be run in all popular versions of the Windows OS and requires absolutely no additional components for file analysis or data extraction. PDF Restore Toolbox is a perfect option for users who face PDF corruption problem on a regular basis, but don't know how to restore damaged PDF files without outsourcing the task to an external service. The program helps save time, money and confidentiality by allowing regular users and IT professionals to perform data recovery just seconds after an accident. http://www.restoretools.com/download.html
"We are extremely glad to be offering this improved version of PDF Restore Toolbox," said Head of Development at Restore Tools. "The PDF format is used universally by people of different technical levels these days, and PDF file corruption is fairly commonplace. The new engine became a valuable addition to the program and resulted in a drastic increase of its speed, efficiency and quality of PDF recovery."
The demo version of PDF Restore Toolbox is available for free on the official manufacturer's website.