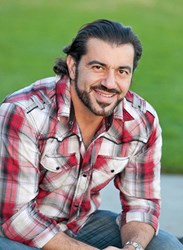 You can have all the best marketing in the world for your personal training business, but if you can't sell well then it'll never grow...
Chino Hills, CA (PRWEB) February 21, 2014
Most personal trainers who decide to open a fitness business seem to struggle with not being able to grow their business fast enough. Sure, their marketing may be in place and it might even be a great campaign that's working well enough to drive prospects to their doors, but if they're not great with selling and closing clients then their business will never give them the financial freedom that they are after. Inspired to help more fitness professionals get their business off the ground Bedros Keuilian, fitness marketing expert and business coach, releases his top four tips on how to sell personal training programs.
He says, "You can have all the best marketing in the world for your personal training business, but if you can't sell well then it'll never grow. Marketing does one thing and one thing only- gets people's attention. It's up to you to sell them the personal training they need to look and feel great so learning how to sell better will not only help your business out in the long run, it'll help your potential clients improve their lives and happiness."
Being a long time fitness business consultant, Keuilian says that learning how to sell better is one of the single most profitable skills that any personal trainer can have. Here are his four tips for selling personal training:
1. Develop a positive attitude around sales. Don't dread the sales process because doing so will sabotage your selling skills. If you learn to like sales, you'll be better off and so will your clients. The sale will go a lot smoother and you'll be able to deal with objections much better.
2. Don't let objections intimidate you. Most personal trainers are fantastic about training. They know how to get their clients results and that is great, but when they sit down to sell their programs and hit their first "no"- they give up altogether. Deal with each objection one at a time (if they have multiple ones) and prove to them why you're worth it.
3. Get to know your potential client. This one is extremely important because getting to the root of why a person wants to get in shape will ultimately help you overcome their main objection and get to the heart of their struggle. Lots of people want to lose weight, but it doesn't become an issue until something happens like having to buy larger clothes or not having much energy to get through the day.
4. Ask open ended questions and take the time to listen. Listening is the heart of sales because it gives you an opportunity to learn about their real struggle. Like I mentioned above, getting to know your potential clients and the main reason why they decided to seek you out is your best bet in getting them to sign on as a client. Don't assume that you know what brought them into you, get to know them first and sell them on that.
About Keuilian Inc.
Keuilian Inc. was founded by fitness business expert, Bedros Keuilian. Keuilian has been called the "hidden genius" behind many of the biggest names in the fitness industry – including top celebrity fitness trainers seen on television networks such as ABC and NBC. He is also the founder of the popular fitness business blog used by thousands of personal trainers worldwide, PTPower.com, and president and CEO of the world's fastest growing indoor fitness boot camp franchise, Fit Body Boot Camp. Keuilian is a long time fitness business coach, consultant, and marketing expert who has taught thousands of personal trainers worldwide how to start and grow a personal training business.
To find out more about Bedros Keuilian and his fitness boot camp franchise, please visit http://www.ptpower.com/ and http://www.myfitbodybootcamp.com/.