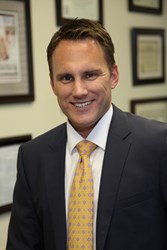 What's interesting is that car accident victims who sustain head trauma experience the same symptoms as football players who get knocked in practice or in the game
Philadelphia, PA (PRWEB) October 15, 2013
With fall football season in full swing, gridiron fan and Pennsylvania injury lawyer, Michael L. Saile, Jr., of Saile & Saile LLP, urges young players and their parents to be aware of concussion dangers.
Recent national headlines highlighting lawsuits filed by former NCAA players have prompted a renewed emphasis on the potential seriousness of any head injury.
Michael L. Saile, Jr., Esq. notes, "It is not surprising that the culture of toughing it out on the sports field has come into question as players have begun speaking out about the effects of their concussion injuries." In fact, more states and local municipalities are taking up the discussion in an effort to change that culture.
A concussion can occur when a person's head or body is hit hard, such as when the head and brain are made to move quickly back and forth and the brain knocks against the skull. Symptoms of concussion include:
-Feeling dazed or light-headed
-General memory loss
-Headaches
-Nausea & vomiting
-Slurred speech & blurred vision
-Feeling overly tired
-Difficulty concentrating
-Feeling anxious and/or irritable
-Changes in sleep patterns
For athletes who have a sustained a head injury, the Centers for Disease Control recommends to coaches and parents, "When in doubt, sit them out."
The point that should be taken here is that concussions are brain injuries, and if not identified and treated can lead to serious lasting effects. Injuries to the head could cause bleeding on the brain, skull fractures, and coma. If someone is suspected of incurring a concussion, he or she should be taken to the local hospital for testing and observation.
If someone is suffering from a head injury from an accident, it is important to gain legal representation soon after the injury occurs. An experienced injury lawyer can help navigate through medical treatment and properly investigate and substantiate a claim for pain and suffering.
The injury lawyers at Saile & Saile LLP help victims of auto, truck, motorcycle, bicycle and pedestrian accidents to recover compensation against insurance companies. Saile & Saile LLP offers a complimentary guide to anyone who has been injured in an accident in Pennsylvania or New Jersey by downloading "Don't Crash Again". Michael L. Saile, Jr., Esq. has also authored a consumer guide book about how to choose the perfect injury lawyer. Get a complimentary copy of "Not Another Bad Lawyer".
Mr. Saile has been name multiple times to the list of "Rising Stars" by SuperLawyers.com in and also holds a "Superb" rating from both clients and peers on the professional ratings website Avvo.com. He has been also named multiple times to the Top 40 Under 40 List by the National Trial Lawyers Association and he enjoys an AV Rating by Martindale Hubble a respected attorney rating service. He reminds all auto accident victims to be checked by a medical professional for concussion as soon as possible after any accident because what at first may seem to be a minor bump on the head can be serious.
The NJ & PA injury law firm of Saile & Saile LLP, which represents injured victims of accidents throughout the states of New Jersey and Pennsylvania, is located in lower Bucks County, Pennsylvania. Their office is just north of Philadelphia and minutes west of Trenton, New Jersey. Call them toll free at 800-860-5801.