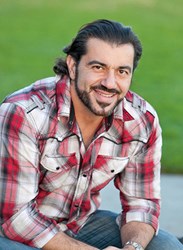 Back when I first started out, I was guilty of all of these mistakes because I simply didn't know any better...
Chino Hills, CA (PRWEB) February 20, 2014
Bedros Keuilian has built up quite a name for himself in the fitness industry over the past decade. He has started, grown, and sold many personal training facilities and even started his own fitness franchise called Fit Body Boot Camp that now has hundreds of locations in the US and around the globe. Now working as a fitness business consultant for personal trainers looking to start and grow their own business, Keuilian says that helping people realize their true potential is his passion, which is why he wanted to reveal how to start a fitness business successfully by avoiding common marketing mistakes.
He explains, "Back when I first started out, I was guilty of all of these mistakes because I simply didn't know any better. Wanting to grow my business fast, I did anything I could to attract new customers but I did it in such a way that hurt my business instead of helping it. I'd slap myself if I could go back in time. For me, it wasn't until I took the time to figure out what worked and what didn't that my business started started to grow."
Keuilian says that there are lots of different reasons for why personal training businesses fail, and most of them have a lot to do with mistakes with marketing. Here are his top three mistakes:
1. Not having a web presence. This mistake is huge because the lack of a web presence makes it hard for potential clients to seek you out. Having a proper website up and running along with a Facebook Fan Page, Twitter account, Google+ profile, a Yelp page, and even a blog where you can write helpful articles is definitely what you want for a fitness business. Basically, any social media site you can get your hands on. You then have to make it a point to actually use these accounts- post and post often. People want to know what your business is up to, and if you're able to get results for the clients you train.
Need inspiration for content? Post before and after pictures. Stories about how you came to love fitness. Chubby or overweight as a kid? Share that with your clients to inspire them to come in and workout with you. Pinterest is also a great resource for motivational quotes and content for you to repost.
2. Not setting the expectations for referrals early on. Word of mouth is still one of the most sacred advertising strategies because it truly works. When a referral is sent to you from a trusted source, they are a lot more likely to sign on as a client because they have already seen what you can do.
Ask your clients to bring in their friends and family right then and there when you're signing them on. Let them know that your business relies on referrals. Print out certificates for a free week of training and give it to them when they're officially on as a client. They'll get excited and you'll start to notice a lot more referrals.
You can even host a referral contest and reward the client who brought in the most people with a really great gift like an iPad or a gift card. That will get more clients in the mood to talk about your business.
3. Not networking with local businesses. Networking is vital, especially with local businesses that cater to your demographic because their customers are your potential customers. Hit the streets and go into these businesses that your clients might visit and start a strategic partnership to refer each other's business to clients.
About Keuilian Inc.
Keuilian Inc. was founded by fitness marketing expert and business consultant, Bedros Keuilian. Keuilian has been called the "hidden genius" behind many of the biggest names in the fitness industry – including top celebrity fitness trainers seen on television networks such as ABC and NBC. He is also the founder of the popular fitness business blog, PTPower.com, and president and CEO of the indoor fitness boot camp franchise, Fit Body Boot Camp.
To find out more about Bedros Keuilian, his fitness boot camp franchise, and advice on how to start a fitness business, please visit http://www.ptpower.com/ and http://www.myfitbodybootcamp.com/.