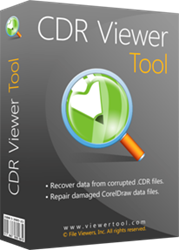 This compact and easy-to-use program knows how to view corrupted CDR file data after all types of accidents
Sacramento, CA (PRWEB) July 30, 2014
Viewer Tool, one of the key players on the market of data recovery tools for a broad range of applications, announces the immediate availability of CDR Viewer Tool, a compact and efficient product for users who want to know how to view corrupted CDR files. http://www.cdr.viewertool.com/
The program is a perfect solution for designers, illustrators and digital artists using CorelDraw a lot and looking for a way to restore their work right on the spot.
CDR Viewer Tool is a specialized CDR file viewer with advanced data recovery functionality that enables users to open, view and restore CorelDraw vector drawing files damaged under different circumstances: after file system failures, hardware problems, virus attacks, interrupted file transmissions and such. http://www.viewertool.com/
The program uses a convenient multi-step wizard that dramatically simplifies the process of data recovery and requires virtually no user involvement. One of the screens of the wizard contains a CDR file viewer with zooming and panning support that enables users to preview recoverable file content prior to proceeding to its extraction. The tool automatically detects the version of the source CorelDraw file and saves restored data in a corresponding format. http://www.viewertool.com/products.html
CDR Viewer Tool was created for users who don't know how to view corrupted CDR file data and have never worked with any data recovery tools, which is why its interface is so lightweight, straightforward and self-explanatory. The program never makes any changes in the source file, leaving users an opportunity to use alternative recovery methods, if necessary. CDR Viewer Tool is ready to work immediately after installation and does not require any additional components to be installed. http://www.viewertool.com/downloads.html
"CDR Viewer Tool is one of the more professional products offered by our company, and we are glad to have improved it so drastically," commented Head of Development at Viewer Tool. "The newest version is far more efficient than any existing competitor and even the program's own predecessor. I would say it's a must-have for any active CorelDraw users."
A free demo version of CDR Viewer Tool can be downloaded from the official website of its developer.