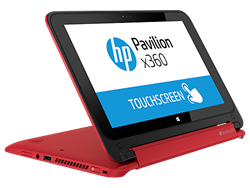 The new HP Convertible Pavilion x360 PC offers tablet/laptop buyers a new option - worthy of consideration.
(PRWEB) March 04, 2014
The new and innovative HP Pavilion 11t-n000 x360 PC has just been featured on Bizwaremagic.com, a 12-year-old small business site which offers a comprehensive online Laptop Buyer's Guide for its subscribers and visitors. The Pavilion x360 PC has a 360 degree hinge, 11.6 inch display, weighs 3 pounds and is under an inch thick. It will retail for around $389.
This convertible notebook also has the latest touchscreen technology which lets the user "tap, swipe, pinch" on a versatile device which can be used in tent, stand or tablet mode. It also features the Pentium N3520 Processor, Windows 8.1, Beats Audio and a HP TrueVision HD Webcam. In addition, the x360 PC carries the "Energy Star" seal of approval.
Contributing to this cause is the Intel Pentium N3520, a power efficient quad-core processor which clocks at 2.17 GHz base speed but can be boosted up to 2.42 GHz. The Pentium N3520 is part of the Bay Trail-M platform and its processor cores are based on the new Silvermont architecture. While powerful, buyers should be aware the performance level of this device is well suited for everyday Internet and office tasks, but not for complex software or modern video games.
"The HP Pavilion x360 PC will probably appeal to those tablet users who want more functionality," says Titus Hoskins, a former teacher who now runs the Bizwaremagic.com site. "A handy tablet, which can be easily converted into a notebook, will find many takers."
However, the x360 PC will have plenty of competition, such as the Microsoft Surface and of course the ever-popular Apple iPad. Regardless, this handy convertible PC from Hewlett-Packard will give tablet buyers another viable option.
The new HP Pavilion 11t-n000 x360 PC can be found here: http://www.bizwaremagic.com/HP_Notebook_Coupons.htm or download our comprehensive free laptop buying guide here: http://www.laptopcomputerguide.org. All products/companies mentioned above are registered trademarks of their respective owners and companies.