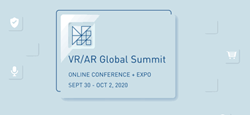 The theme of the Summit is "adaptability," and it will showcase how companies are really embracing new technologies to keep business moving.
PALO ALTO, Calif. (PRWEB) September 28, 2020
After organizing the VR/AR Global Summit ONLINE in June to help the industry move forward, with a turnout of over 11,000 attending live, the largest global ecosystem of VR/AR companies, brands, and professionals is going virtual again.
The theme of the fall summit is "adaptability," and it will showcase how companies are really embracing new technologies to keep business moving.
In addition to new product announcements by HP and others, we will have 200+ Speakers, Exhibitors, Brands (including Bridgestone, BP, Lufthansa Cargo, Pfizer, PGA Tour, Southern Co, Sony Pictures), sessions on enterprise, safety, health, diversity & inclusion, defense & aerospace, equity and access to education, and so much more!
"The VR/AR Global Summit connects the global VR community and we appreciate the association for organizing such a terrific event with key players in the industry, and giving us an opportunity to be part of these important conversations. HP believes in the power of immersive technology to improve people's lives and we are excited to share and discuss how our engineers are innovating for the future." – HP VR Team
Plus, we will have 1000s of 1-on-1 interactive meets as part of our famous Speed Dating. Our online events platform uses a special networking feature that will match and connect you with other executives and give you 5 minutes to connect 1-on-1 on video where you can preview each other's credentials, bio, and talk business!
"The VR/AR Global Summit prides itself on bringing together a well-curated program that encompasses all aspects of VR and AR in the industry. From changing the world with VR for Good, to bringing culture and tourist sites to homes, training astronauts, producing immersive festivals, enhancing work at home experiences and so much more, the Summit really offers an in-depth look at this important industry," says Nathan Pettyjohn, President of the VR/AR Association. "Now, more than ever, in this new world, the theme of "adaptability," and the role that immersive technology plays, VR and AR are important technologies to adapt for everyone. The Summit brings together all of these assets in an engaging, entertaining and informative show. We are proud to bring this event to the global stage."
The VR/AR Global Summit will feature dynamic keynotes, industry tracks, a startup pitchfest, demos, exhibits, networking and amazing VIP events. It will showcase the best that the industry has to offer.
Tickets are now on sale for the event - Get tickets here https://hopin.to/events/vr-ar-global-summit-online-conference-expo
To learn more about the VR/AR Global Summit see http://www.vrarglobalsummit.com
Contact:
Anne-Marie Enns
VR/AR Global Summit, Executive Producer
Am@thevrara.com
Kris Kolo
Global Executive Director, VR/AR Association (VRARA)
Kris@thevrara.com
About VR/AR Association (VRARA)
The VR/AR Association (VRARA) is an international organization designed to foster collaboration between innovative companies and people in the VR and AR ecosystem that accelerates growth, fosters research and education, helps develop industry standards, connects member organizations and promotes the services of member companies.
About VR/AR Global Summit
The summit is a content-driven VR / AR show, featuring important conversations, talks, exhibits, and events led by globally leading companies and organizations, who are sharing practical and valuable real-use cases from the immersive industry. Our Summit is now the largest immersive tech event in the world. Our last online summit in June had almost 12,000 attending live!