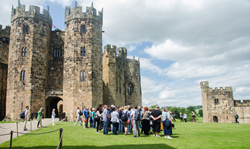 (PRWEB) December 02, 2016
HP Fan Tours is offering the perfect gift for Harry Potter fans: a Fantastical Tour suitcase from HP Fan Tours, packed will all the essentials needed for the ultimate Harry Potter-themed adventure in England and Scotland.
HP Fan Tours has launched The Fantastical Tour to celebrate the release of "Fantastic Beasts" and the 20th Anniversary of "Harry Potter and the Philosopher's Stone!" This 8-day/7-night tour in July 2017 will include lodging, transportation, multiple meals and an immersive HP experience unlike any before.
Highlights will include:

Tours of the original filming sites in England and Scotland, where the knowledgeable and talented Blue Badge Guides and storytellers will help participants walk in their favorite characters' footsteps.
Discovering iconic props, costumes and sets on Warner Brother's "The Making Of Harry Potter" studio tour, held at the legendary Leavesden Studios, where Harry Potter was brought to life on the silver screen.
Experiencing a one-of-a-kind immersive adventure at HP Fan Tours' very own castle and School of Wizardry, Lumley Castle in Durham, England.
The option of expanding the adventure for three days in the Scottish Highlands, where participants will ride an historic steam train across Glenfinnan Viaduct, just as though they were on their way to wizarding school!
The Fantastical Tour customized suitcase, complete with scarf, wand, and personalized items and clues for use at the Lumley Castle School of Wizardry, will arrive by Christmas for any reservation made between now and December 20, 2016.
Official Tour Dates:

The Fantastical Tour: July 16-23, 2017
$2899 (8 days/7 nights) Reservation deposit $350

The Magical Highlands Extension: July 23-26, 2017
$799 (3 days/2 nights) Reservation deposit $150
Reservations:
Guests can reserve tickets for the tour by visiting http://www.hpfantours.com or by calling 1-855-MOVIEFAN.