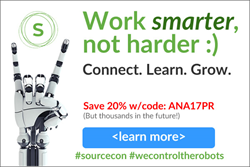 SourceCon is a must try for any recruiter interesting in learning about how to find talent in this increasingly competitive marketplace.
Anaheim, CA (PRWEB) January 23, 2017
The can't miss talent sourcing and recruitment conference of the year kicks off on March 13-15, 2017 right next to the Anaheim Convention Center at the Anaheim Marriott in Anaheim, California.
Just a short walking distance from Disneyland, recruiters and sourcing specialists will be learning from thought leaders like Kerstin Wagner, Head of Talent Acquisition at Deutsche Bahn AG in Germany, where they use virtual reality, holograms, and big data to improve the business through innovative talent acquisition tools and techniques.
In her presentation, Wagner will share how these innovations have a huge impact on candidate journey, employer attractiveness, and the talent acquisition profession. She will give concrete examples of innovations which were prototyped and implemented at Deutsche Bahn AG to revolutionize talent acquisition. Furthermore, Wagner will give insight on how they foster a culture of innovation in her team to push TA constantly to the next level.
SourceCon attendees will also hear from the likes of Katrina Collier, the Chief Searchologist & Social Recruiting Specialist for her London-based company The Searchologist. Since 2009, Katrina Collier has been showing SMEs to global Corporates around the world how to source their staff on social media, transforming HR & Recruiters into Certified Searchologists.
Collier will challenge sourcers and recruiters to add a human touch to sourcing in an age of robotics. Attendees will see clear examples of why the wrong automation only creates noise, and discover how to ensure they are not losing that all-important personal touch… after all, isn't recruitment all about engaging with people?
Other speakers highlighting the three-day conference are Mark Tortorici, Glen Cathey, Jason Roberts, Summer Husband, Jill O'Connell, Frida Polli, Jeremy Roberts and Gerry Crispin. View all the great speakers
Tortorici will kick off the conference with a sold out two-hour pre-conference workshop, How to Level the Playing Field in Sourcing. This pre-conference workshop will certainly take sourcing skills to the next level. It will also give attendees a lot of insight and knowledge heading into the conference.
The theme for this year's conference is, "We Control The Robots." Many of our keynotes will be focusing on artificial intelligence and how it will impact sourcing. Our industry has been saying robots will replace us for years. It's time to address the future and control the bots.
Follow SourceCon for updates and source our group on Facebook where secrets are traded in the industry and discounts can be found.
Advanced rate registration for SourceCon ends on February 18th. Save an additional 20% with discount code ANA17PR. SourceCon is featuring an incredible lineup and will be bringing back attendee favorites: The Welcome Wagon, the Roundtables, and the SourceCon Hackathon. This year we will also be announcing our latest Grandmaster winner.
Learn more at http://www.sourcecon.com/2017