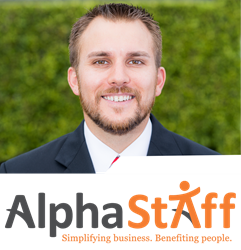 Over the past decade Jason has held many roles and has had varying responsibilities within AlphaStaff, making him the perfect fit for this role.
FORT LAUDERDALE, FL (PRWEB) September 26, 2014
AlphaStaff, a full-service national professional employment organization (PEO) and HR outsourcing firm, announced today the promotion of Jason Holbrook as director of client implementation services. In his new role, Holbrook will oversee a team of specialists responsible for coordinating and managing the onboarding of new clients acquired by AlphaStaff.
"Jason has proven to be a strong asset to the organization. Over the past decade Jason has held many roles and has had varying responsibilities within AlphaStaff, making him the perfect fit for this role. Not only has he demonstrated himself to be a valued team player, but he is also a certified payroll professional," stated Jeff Smith, AlphaStaff's Executive Vice President of Operations.
Mr. Smith also added that Holbrook also recently completed his most recent academic endeavor, graduating this past July with his MBA from the University of Florida.
Holbrook will be responsible for all aspects of onboarding new PEO clients, including payroll and tax administration, risk management services including workers' compensation, and benefits administration including open enrollment for health, dental, vision and supplemental products. Holbrook also will be managing any ancillary services new AlphaStaff clients choose for their customized solution. His goal in the role of the director of client implementation services is to ensure a smooth and seamless transition to AlphaStaff by coordinating with all departments and managing timely deliverables. As director, Mr. Holbrook will be working not only with small and medium-sized businesses, but also new clients' larger national accounts. His extensive knowledge of AlphaStaff best practices, as well as his specialized education and training both with Six Sigma and the University of Florida, help ensure that he will provide new clients with the best possible start to their prosperous relationship with AlphaStaff.
About AlphaStaff
AlphaStaff is a leading professional employer organization that delivers a customizable suite of human resource, employee benefit and employee administration solutions designed to support organizations through their evolving business cycles. Through the buying power of more than 1,000 companies and tens of thousands of worksite employees, clients gain access to workforce management expertise, practical benchmarking data, HR information systems, insurance and the ability to realize a more predictable health care expense. AlphaStaff delivers measureable results ensuring clients achieve their objectives related to cost management, efficiency, compliance and profitability. AlphaStaff, founded in 1997, has supported more than 100,000 worksite employees in 49 states. For more information, visit http://www.alphastaff.com.