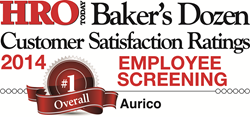 Our solutions sit at the nexus of talent management, technology, and organizational success
Arlington Heights, IL (PRWEB) November 24, 2014
It's official! Elliot Clark, CEO of HRO Today Magazine, announced Aurico Reports, Inc. ranked #1 overall and #1 for quality of service in the 2014 Pre-Employment Screening Baker's Dozen list of top performers. As the largest customer satisfaction survey in HR, this honor represents the pinnacle of customer service excellence in the industry.
Rankings are based solely on feedback from buyers of the rated services. "Competition this year was fiercer than ever before and we received over 900 surveys from more than 400 companies," said Clark. It is clear that Aurico is the preferred provider year over year, when it comes to customer service and quality.
"I'm proud that the Aurico team has been recognized by customers for our subject matter expertise, attention to detail, and operational consistency," said Ben Goldberg, President of Aurico.
"Our customers know that we stay focused on research methodologies and technology to improve the predictability and accuracy of their background screening results. However, the real reason they select us is our commitment to the customer partnership. I believe we earned the #1 honor this year because we answer the simple questions on a daily basis in a clear and sensitive manner, and resolve the issues promptly during mission critical events."
Ranking 6th in 2012 and 5th in 2013, Aurico has shown what it means to place the right people in the right roles at the right time. "Our solutions sit at the nexus of talent management, technology, and organizational success," says Goldberg. Clark supports that strategy. "Over the past year, we've begun to see that the best workforce leads to steady performance. The best employees are better for business."
When selecting a new background screening vendor, 71% of companies reference the HRO Today Baker's Dozen customer satisfaction rankings. Seventy-nine percent say that a ranking influenced their decision. "You must do big programs with great service. We track several thousand companies on an annual basis, and ranking #1 demonstrates a consistent level of extraordinary performance," said Clark.
Goldberg said, "When we rose in the ranking last year, we made a mental note to reinforce the foundation of our product and service levels with strategic innovations for our customers. It's certain that those changes are making a difference to our customers and we'll be back next year with even more to offer."
About Aurico: Aurico is an NAPBS accredited and ISO 9001:2008 certified background screening and drug testing company. As a certified veteran-owned business (VOSB) with over 23 years of experience, Aurico provides clients with high quality screening, compliance tools, paperless solutions and is nationally recognized on HRO Today's Baker's Dozen Customer Satisfaction list of top screening providers three years in a row. Our award-winning WebACE™ technology is pre-integrated with the premier applicant tracking systems for efficient integration. As a winner of the 2014 BBB Torch Award for Marketplace Ethics, Aurico exemplifies the highest standards in ethical behavior and business practices towards our customers, employees, and communities.
Learn more: http://www.aurico.com