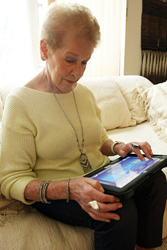 "We aim to be great partners with other facilities in our community by having a process in place to reduce the number of hospitalizations to below state and national averages."
Boise, ID (PRWEB) June 07, 2017
Horizon Home Health & Hospice, a subsidiary of Cornerstone Healthcare, Inc., now offers advanced telehealth and remote monitoring to its patients, one of the only agencies in the Treasure Valley with this technology and the first in Idaho to partner with innovative software company Health Recovery Solutions.
Health Recovery Solutions (HRS) is a national provider of software that addresses the primary drivers of hospital readmissions and ER visits, including medication noncompliance, low health literacy, and lack of communication with clinicians and caregivers. With a 4G tablet and Bluetooth devices, patients monitor their vital signs and answer symptom questions daily through the PatientConnectTM platform, all customized to their disease condition.
In addition to HRS' web-based ClinicianConnectTM platform, Horizon's clinicians are also leveraging the ClinicianConnectTM smartphone application to manage their patients. HRS Chief Technology Officer Daniel Priece states, "As the future of healthcare is increasingly mobile, HRS is at the forefront of providing solutions that seamlessly integrate with clinician workflows and allow them to make the leap into mobile enterprise, enabling greater efficiency and increased real-time access to patient data." With remote patient monitoring technology, Horizon telehealth clinicians can monitor patients in real-time while receiving alerts if a patient becomes high risk.
Carrie Birch, Director of Nursing at Horizon, explains that the primary goal of Horizon's partnership with HRS is to always keep patients safely in their homes for as long as possible: "We aim to be great partners with other facilities in our community by having a process in place to reduce the number of hospitalizations to below state and national averages." Ashley Pentzer, Director of Business Development for Horizon adds, "With the patient's care plan loaded onto the 4G tablet, no landline required, telehealth is now much more user-friendly and easy to use, which will allow us to achieve these goals." Horizon is focusing on offering this technology to patients with cardiac, respiratory, and diabetes diagnoses to improve health outcomes and reduce readmissions, all while keeping patients comfortable at home.
For more information on Horizon Home Health & Hospice, call (208)884-5051 or visit https://www.horizonhh.com/.
For information on HRS, call (347)699-6HRS or visit http://www.healthrecoverysolutions.com.